Center multi-function control panel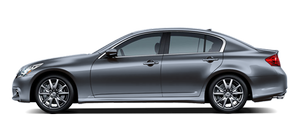 Models with navigation system
1. "STATUS" status display button
2, 6, 7, 10, 11. For navigation system control buttons (Refer to the separate Navigation System Owner's Manual.)
3. INFINITI controller
4. "PHONE" Bluetooth® Hands-Free Phone System button
5. " OFF" brightness control and display ON/OFF button
8. "AM·FM·SAT" band selector button
9. "DISC·AUX" selector button
12. "INFO" vehicle and navigation information button
13. "SETTING" button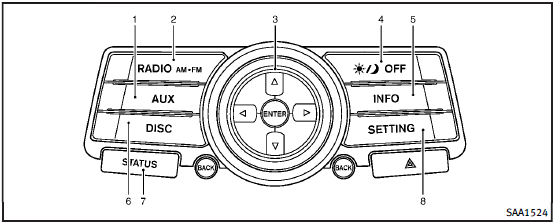 Models without navigation system
1. "AUX" button
2. "RADIO AM·FM" band selector button
3. INFINITI controller
4. "

OFF" brightness control and display ON/OFF button
5. "INFO" vehicle information button
6. "DISC" selector button
7. "STATUS" status display button
8. "SETTING" button
When you use this system, make sure the engine is running.
If you use the system with the engine not running (ignition ON or ACC) for a long time, it will use up all the battery power, and the engine will not start.
See also:
Selecting the correct oil
It is essential to choose the correct grade, quality, and viscosity engine oil to ensure satisfactory engine life and performance, see "Capacities and recommended fuel/ lubricants". INFINITI recommend ...
Jacking up the vehicle and removing the damaged tire
WARNING • Never get under the vehicle while it is supported only by the jack. If it is necessary to work under the vehicle, support it with safety stands.• Use only the jack provided with your vehicl ...
Parking brake
WARNING ● Be sure the parking brake is fully released before driving. Failure to do so can cause brake failure and lead to an accident. ● Do not release the parking brake from outsid ...