Center multi-function control panel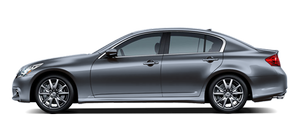 Models with navigation system
1. "STATUS" status display button
2, 6, 7, 10, 11. For navigation system control buttons (Refer to the separate Navigation System Owner's Manual.)
3. INFINITI controller
4. "PHONE" Bluetooth® Hands-Free Phone System button
5. " OFF" brightness control and display ON/OFF button
8. "AM·FM·SAT" band selector button
9. "DISC·AUX" selector button
12. "INFO" vehicle and navigation information button
13. "SETTING" button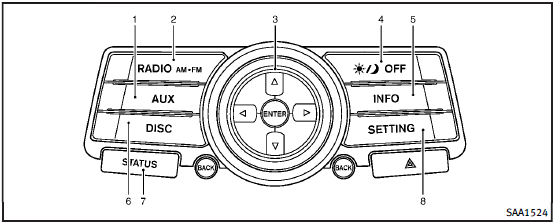 Models without navigation system
1. "AUX" button
2. "RADIO AM·FM" band selector button
3. INFINITI controller
4. "

OFF" brightness control and display ON/OFF button
5. "INFO" vehicle information button
6. "DISC" selector button
7. "STATUS" status display button
8. "SETTING" button
When you use this system, make sure the engine is running.
If you use the system with the engine not running (ignition ON or ACC) for a long time, it will use up all the battery power, and the engine will not start.
See also:
Safety & Reliability
In crash tests by the Insurance Institute for Highway Safety, the M earned the top possible score, Good, in both frontal and side-impact tests. Standard safety features include six airbags, with s ...
Interior
The interior of the FX felt kind of tight and cave-like when I first jumped into it. I thought it would be a claustrophobia-inducing tight squeeze when I loaded both of my kids plus a friend of th ...
Touch screen maintenance
If you clean the display screen, use a dry, soft cloth. If additional cleaning is necessary, use a small amount of neutral detergent with a soft cloth. Never spray the screen with water or detergent. ...