Precautions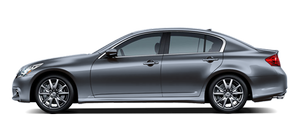 Start the engine when using the DVD entertainment system.
Movies will not be shown on the front display while the vehicle is in any drive position to reduce driver distraction. Audio is available when a movie is played. To view movies in the front display, stop the vehicle in a safe location, move the selector lever to the P (Park) position (Automatic Transmission models) or apply the parking brake (Manual Transmission models).
WARNING
• The driver must not attempt to operate the DVD system or wear the headphones while the vehicle is in motion so that full attention may be given to vehicle operation.
• Do not attempt to modify the system to display a movie on the front screen while the vehicle is being driven. Doing so may distract the driver and may cause a collision and serious personal injury or death.
CAUTION
• Only operate the DVD while the vehicle engine is running. Operating the DVD for extended periods of time with the engine OFF can discharge the vehicle battery.
• Do not allow the system to get wet.
Excessive moisture such as spilled liquids may cause the system to malfunction.
• While playing VIDEO-CD media, this DVD player does not guarantee complete functionality of all VIDEO-CD formats.
See also:
Locking with power door lock switch
Locking with power door lock switch Operating the power door lock switch will lock or unlock all the doors. The switches are located on the driver's and front passenger's door armrests. To lock th ...
Lane Departure Warning (LDW)/Prevention (LDP) system (if so equipped)
The Lane Departure Warning (LDW) system/ Lane Departure Prevention (LDP) system will operate when the vehicle is driven at speeds of approximately 45 MPH (70 km/h) and above, and when it is tr ...
Parking/parking on hills
WARNING ► Do not stop or park the vehicle over flammable materials such as dry grass, waste paper or rags. They may ignite and cause a fire. ► Never leave the engine running w ...