Playing a DVD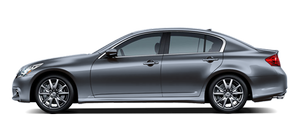 DISC·AUX button:
Park the vehicle in a safe location for the front seat occupants to operate the DVD drive while watching the images.
Push the DISC·AUX button on the instrument panel and turn the display to the DVD mode.
When a DVD is loaded, it will be replayed automatically.
The operation screen will be turned on when the DISC·AUX button located on the instrument panel is pushed while a DVD is being played, and it will turn off automatically after a period of time. To turn it on again, push the DISC·AUX button again.
DVD operation keys:
When the DVD is playing without the operation screen being shown, you may use the touch screen to select items from the displayed video. You may also use the INFINITI controller to select an item from the displayed video. When the operation screen is being shown, use the INFINITI controller or touch screen to select an item from the displayed menus.


PAUSE:
Select the "
" key to pause the DVD. To resume playing the DVD, use the "PLAY" key.


PLAY:
Select the "

" key to start playing the DVD, for example, after pausing the DVD.


STOP:
Select the "

" key to stop playing the DVD.


Next/Previous Chapter:
Select the "

" or "

" key to skip the chapter(s) of the disc forward/backward.
The chapters will advance/go back the number of times this key is selected.


Commercial Skip:
This function is only for DVD-VIDEO, DVDVR.
Select the "

" or "

" key to skip forward or backwards by the set amount as defined in the DVD Settings menu.
Top Menu:
When the "Top Menu" key is selected in the screen while a DVD is being played, the top menu specific to each disc will be displayed. For details, see the instructions on the disc.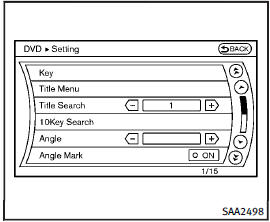 Example
See also:
On-pavement and off-road driving precautions
Utility vehicles have a significantly higher rollover rate than other types of vehicles. They have higher ground clearance than passenger cars to make them capable of performing in a variety of on-pa ...
Intelligent All-Wheel Drive (AWD) (if so equipped)
If any malfunction occurs in the Intelligent AWD system while the engine is running, messages are displayed in the meter. If the AWD error warning message is displayed, there may be a malfunction i ...
Installing front license plate
Use the following steps to mount the license plate: Before mounting the license plate, confirm that the following parts are enclosed in the plastic bag. • License plate bracket• J-nut 6 2• Screw 6 2• ...