Styling & Quality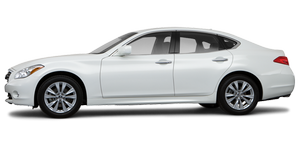 I won't waste much virtual ink describing the M's styling qualities; they're better shown in the thumbnails at right. Models with the Sport package get 19-inch alloy wheels, while others have 18-inchers.
Originally lauded for its quality relative to Infiniti's previous efforts, the M's cabin has held up well thus far. The dashboard rises to the windshield in steps, giving the cabin a roomy feel. Interior surfaces aren't as sumptuous as those in the E-Class or Jaguar XF, but they're certainly upscale enough: There are leather wrappings around the door pulls and chrome runners along the steering wheel. The cabin trim Ч aluminum or optional wood Ч is the real deal, not synthetic.
Audio options range from a six-speaker, six-CD stereo to two Bose systems with eight and 14 speakers, respectively. I've spent the most time with the eight-speaker system, which proved rich enough for my taste. I don't think I'd go for the top-shelf upgrade, considering it also shoehorns a bulky DVD-audio disc drive in the center console.
The navigation system's graphics are getting a bit dated, but its layout generally wallops the competition. Users can touch the on-screen commands or any of numerous shortcut buttons to zoom in or out, move the cursor around the map, go back to the previous screen, you name it. The intersection input lets you search within a specified city Ч a clear advantage over systems that aggravatingly display every Third and Main in eight surrounding states.
Real-time traffic uses a feed from XM's NavTraffic subscription service to depict congestion levels with color-coded lines along the highway. It can find the quickest route to your destination based on current traffic conditions, something early real-time traffic navigation systems didn't do. On one trip up Chicago's Interstate 90in last year's M35, the system reported that my route was largely congestion-free Ч while I sat in bumper-to-bumper traffic. I'll note, at least, that it rarely overreported traffic. Infiniti says the feed goes from XM to all models with NavTraffic, so this would likely be an issue in any car with the system.
See also:
Measurement of weights
Secure loose items to prevent weight shifts that could affect the balance of your vehicle. When the vehicle is loaded, drive to a scale and weigh the front and the rear wheels separately to determine ...
Overview
The Infiniti G37 Coupé offers dramatic performance in a thoroughly seductive shape. Although sharing a great deal of hardware with the Infiniti G37 Sedan, the Coupé is designed to ap ...
Engine serial number
The number is stamped on the engine as shown. ...