Conventional (fixed speed) cruise control mode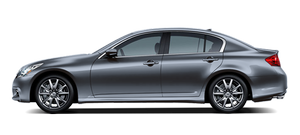 This mode allows driving at a speed between 25 to 89 MPH (40 to 144 km/h) without keeping your foot on the accelerator pedal.
WARNING
Х In the conventional (fixed speed) cruise control mode, a warning chime does not sound to warn you if you are too close to the vehicle ahead, as neither the presence of the vehicle ahead nor the vehicle-to-vehicle distance is detected.
Х Pay special attention to the distance between your vehicle and the vehicle ahead of you or a collision could occur.
Х Always confirm the setting in the Intelligent Cruise Control system display.
Х Do not use the conventional (fixed speed) cruise control mode when driving under the following conditions:
Ч when it is not possible to keep the vehicle at a set speed
Ч in heavy traffic or in traffic that varies in speed
Ч on winding or hilly roads
Ч on slippery roads (rain, snow, ice, etc.)
Ч in very windy areas
Х Doing so could cause a loss of vehicle control and result in an accident.
See also:
Precautions on IBA system
WARNING ● The IBA system is not a collision avoidance system. It is the driverТs responsibility to stay alert, drive safely and be in control of the vehicle at all times. ● As there ...
Interior Tradeoffs
Once I'd called into question the FX's sportiness, I found it harder to justify its drawbacks. Always a bold design statement, the FX's sleek shape takes a toll on interior space. Thankfully, the ...
Camera aiding sonar (parking sensor) (rear center sonar if so equipped)
The sonar (parking sensor) sounds a tone to inform the driver of obstacles near the bumper. WARNING ● The sonar (parking sensor) is a convenience feature. It is not a substitute for proper p ...