Conventional (fixed speed) cruise control mode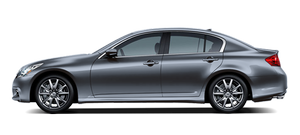 This mode allows driving at a speed between 25 to 89 MPH (40 to 144 km/h) without keeping your foot on the accelerator pedal.
WARNING
• In the conventional (fixed speed) cruise control mode, a warning chime does not sound to warn you if you are too close to the vehicle ahead, as neither the presence of the vehicle ahead nor the vehicle-to-vehicle distance is detected.
• Pay special attention to the distance between your vehicle and the vehicle ahead of you or a collision could occur.
• Always confirm the setting in the Intelligent Cruise Control system display.
• Do not use the conventional (fixed speed) cruise control mode when driving under the following conditions:
— when it is not possible to keep the vehicle at a set speed
— in heavy traffic or in traffic that varies in speed
— on winding or hilly roads
— on slippery roads (rain, snow, ice, etc.)
— in very windy areas
• Doing so could cause a loss of vehicle control and result in an accident.
See also:
Vehicle-to-vehicle distance control mode operation
Always pay attention to the operation of the vehicle and be ready to manually control the proper following distance. The vehicle-to-vehicle distance control mode of the Intelligent Cruise Co ...
Exterior
Many people have openly expressed disgust with the QX's looks. I wouldn't call it 100 percent ugly, but 60 percent ugly sounds about right. Its proportions don't help. To my eye, its beluga-whale ...
Vehicle load capacity
Do not exceed the load limit of your vehicle shown as "The combined weight of occupants and cargo" on the Tire and Loading Information label. Do not exceed the number of occupants shown as "Seating ...