Automatic cancellation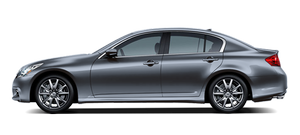 A chime sounds under the following conditions and the control is automatically canceled.
• When the vehicle slows down more than 8 MPH (13 km/h) below the set speed . When the vehicle speed falls below approximately 20 MPH (32 km/h) . When the selector lever is not in the D (Drive), DS (Drive Sport) or manual shift mode . When the VDC operates (including the traction control system) . When a tire slips
See also:
Bluetooth® Hands-Free Phone System
WARNING ► Use a phone after stopping your vehicle in a safe location. If you have to use a phone while driving, exercise extreme caution at all times so full attention may be given to ...
Sonar system (if so equipped)
Sonar system (if so equipped) WARNING • The sonar system is a convenience but it is not a substitute for proper parking.Always look around and check that it is safe to do so before parking. Always ...
Tire chains
Use of tire chains may be prohibited according to location. Check the local laws before installing tire chains. When installing tire chains, make sure they are the proper size for the tires on ...