Sonar indicator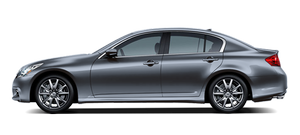 Sonar indicator
*1 Rear view monitor display
*A Corner sonar indicator
*B Center sonar indicator
With the "Sonar Display" key ON in the "Sonar" settings, when the corner/center sonar detects obstacles near the bumper, a tone will sound and the sonar indicator will appear in the center display. When the rear view monitor is displayed, the sonar indicator will appear in the upper corner of the display 1 .
The sonar indicators A and B indicate the position of the object and the distance to the object with its color and rate of blinking.
When an object is detected, the indicator (green) appears and blinks (the tone sounds intermittently). When the vehicle moves closer to the object, the color of the indicator turns yellow and the rate of blinking increases (the rate of the tone increases). When the corner of the vehicle is very close to the object, less than 11.8 in (30 cm) away, the indicator stops blinking and turns red (the tone sounds continuously).
When the rear view monitor is displayed, the colors of the sonar indicator and the distance guide lines in the rear view indicate different distances to the object.
The sonar indicator can be turned off in the SONAR setting display. (See "How to use SETTING button" for the "Sonar" settings.) When the sonar indicator is off, only a tone sounds when the sonar detects obstacles.
See also:
When traveling or registering your vehicle in another country
If you plan to travel in another country, you should first find out if the fuel available is suitable for your vehicle's engine. Using fuel with too low an octane rating may cause engine damage. All ...
Off-road recovery
If the right side or left side wheels unintentionally leave the road surface, maintain control of the vehicle by following the procedure below. Please note that this procedure is only a general guide. ...
Cup holders
CAUTION • Avoid abrupt starting and braking when the cup holder is being used to prevent spilling the drink. If the liquid is hot, it can scald you or your passenger.• Use only soft cups in the cup h ...