Preview function (Intelligent Cruise Control system equipped models)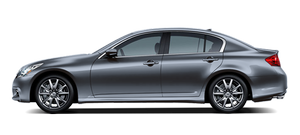 When the Preview Function identifies the need to apply emergency braking by sensing a vehicle ahead in the same lane and the distance and relative speed from it, it applies the brake pre-pressure before the driver depresses the brake pedal and helps improve brake response by reducing pedal free play.
Х This system will not operate when the vehicle is moving at approximately 20 MPH (32 km/h) or less.
Х The pre-pressure function ceases when the following conditions are met: 1) When the driver depresses the accelerator pedal or the brake pedal.
2) If the driver does not operate the accelerator or brake pedal within approximately 1 second.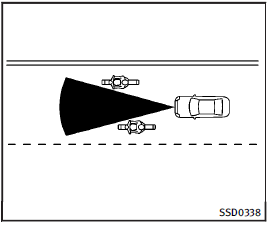 Х The sensor will not detect:
1) Pedestrians or objects in the roadway
2) Oncoming vehicles in the same lane
3) Motorcycles traveling offset in the travel lane as illustrated
WARNING
Х This system is only an aid to assist braking operation and is not a collision warning or avoidance device. It is the driverТs responsibility to stay alert, drive safely and be in control of the vehicle at all times.
Х As there is a performance limit to the Preview Function, never rely solely on this system. This system does not correct careless inattentive or absentminded driving, or overcome poor visibility in rain, fog, or other bad weather.
Reduce vehicle speed by depressing the brake pedal, in order to maintain a safe distance between vehicles.
Х The system may not detect the vehicle in front of you in certain road or weather conditions. The Preview Function may not operate properly under the following conditions. The vehicle is still driveable under normal conditions and the Brake Assist will operate.
Ч When rain, snow or dirt adhere to the system sensor
Ч When strong light (for example, at sunrise or sunset) is directly shining on the front of the vehicle
Ч Winding or hilly roads may cause the sensor to temporarily not detect a vehicle in the same lane or may detect objects or vehicles in other lanes.
Ч Vehicle position in the lane may cause the sensor to temporarily not detect a vehicle in the same lane or may detect objects or vehicles in other lanes.
See also:
Engine compartment
CAUTION Never use a fuse of a higher or lower amperage rating than specified on the fuse box cover. This could damage the electrical system or cause a fire. If any electrical equipment does not ...
Types of tires
WARNING Х When changing or replacing tires, be sure all four tires are of the same type (Example: Summer, All Season or Snow) and construction. An INFINITI retailer may be able to help you with infor ...
Seat belts with pretensioners (Frontseats)
WARNING ● If the vehicle becomes involved in a collision but a pretensioner is not activated, be sure to have the pretensioner system checked and, if necessary, replaced by your INFINITI reta ...