Coupe (INFINITI Performance Line, Aerodynamic Package models)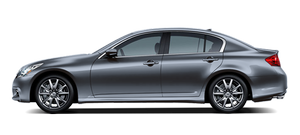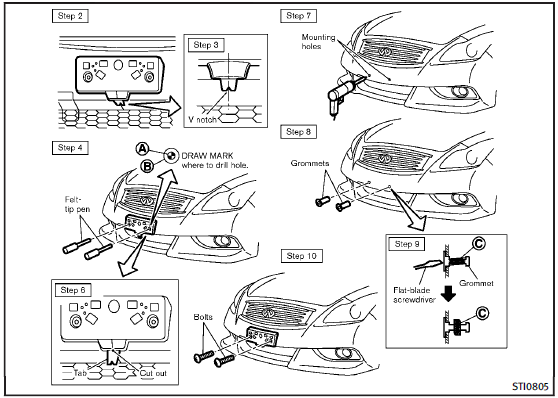 Coupe (INFINITI Performance Line, Aerodynamic Package models)
1. Park the vehicle on flat, level ground.
2. Temporarily fit the license plate bracket on the center of the front bumper fascia.
3. For horizontal position adjustment, place and hold the underside tab of the license plate bracket on the front bumper fascia to align the tab's V notch with the edge of a bead on the upper side of front bumper fascia.
4. Hold the license plate bracket and mark the points A on the bumper facia through the center of the holes B with a felt-tip pen.
5. Remove the license plate bracket.
6. Detach the license plate bracket and cut the underside tab by using a cutter.
7. Carefully drill two shallow pilot holes A using a 0.39 in (10 mm) drill bit at the marked locations. (Be sure that the drill only goes through the fascia, or damage to the nut may occur.)
8. Insert Grommets into the hole on the front bumper fascia.
9. Insert a flat-blade screwdriver into the grommet hole to add a 908 turn onto the part C .
10.Install the license plate bracket with the bolts.
11.Install the license plate with bolts that are not longer than 0.55 in (14 mm).
See also:
Touch screen maintenance
If you clean the display screen, use a dry, soft cloth. If additional cleaning is necessary, use a small amount of neutral detergent with a soft cloth. Never spray the screen with water or detergent. ...
Oil additives
INFINITI does not recommend the use of oil additives. The use of an oil additive is not necessary when the proper oil type is used and maintenance intervals are followed. Oil which may contain foreig ...
Regulatory information
FCC Regulatory information ► CAUTION: To maintain compliance with FCC's RF exposure guidelines, use only the supplied antenna. Unauthorized antenna, modification, or attachments could d ...