Outside mirrors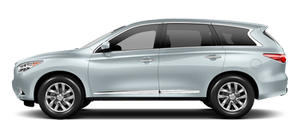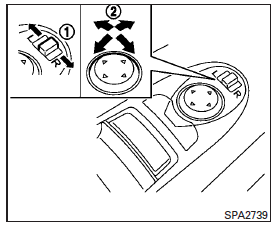 The outside mirror remote control will operate only when the ignition switch is in the ACC or ON position.
Move the small switch 1 to select the right or left mirror. Adjust each mirror to the desired position using the large switch 2 .
WARNING
● Objects viewed in the outside mirror on the passenger side are closer than they appear. Be careful when moving to the right. Using only this mirror could cause an accident. Use the inside mirror or glance over your shoulder to properly judge distances to other objects.
● Do not adjust the mirrors while driving.
You could lose control of your vehicle and cause an accident.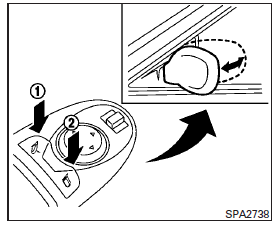 Power folding outside mirrors
CAUTION
● Do not touch the mirrors while they are moving. Your hand may be pinched, and the mirror may malfunction.
● Do not drive with the mirrors stored.
You will be unable to see behind the vehicle.
Push the 2 switch to open or the 1 switch to close the mirrors.
If one of the mirrors are manually operated or bumped, the mirror body can become loose at the pivot point. To correct electronic mirror operation, cycle the mirrors by pushing the "CLOSE" switch until completely closed, then push the "OPEN" switch until the mirrors are in the open position.
Reverse tilt-down feature (if so equipped)
The reverse tilt-down feature will turn the selected outside mirror surface downward to provide better rear visibility close to the vehicle.
When the ignition switch is in the ON position, turn the outside mirror control switch to the left or right position. Only one mirror can be selected at a time.
Move the shift selector to R (Reverse). The selected mirror will turn downward.
The selected mirror surface will return to its original position when any of the following have occurred:
● The shift selector is moved to any position other than R (Reverse).
● The outside mirror control switch is set to the neutral or center position.
● The ignition switch is placed in the OFF position.
NOTE:
If the outside mirror control switch is in the neutral position, neither mirror will turn downward when the shift selector is moved to R (Reverse).
For more information regarding this feature, refer to "Automatic drive positioner" in this section.
Heated mirrors
The outside mirrors can be heated to defrost, defog, or de-ice for improved visibility. For additional information, see "Rear window and outside mirror defroster switch" in the "Instruments and controls" section of this manual.
See also:
Defrosting outside mirrors (if so equipped)
The outside mirrors will be heated when the rear window defroster switch is operated. ...
Draining of coolant water
If the vehicle is to be left outside without antifreeze, drain the cooling system, including the engine block. Refill before operating the vehicle. For details, see "Changing engine coolant" in the ...
Security systems
Security systems Your vehicle has two types of security systems, as follows:• Vehicle security system• INFINITI Vehicle Immobilizer System The security condition will be shown by the security indi ...