Linking a keyfob to a stored memoryposition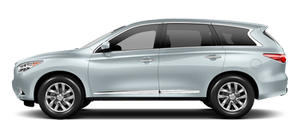 Each keyfob can be linked to a stored memory position (memory switch 1 or 2) with the following procedure.
1. Follow the steps for storing a memory position.
2. While the indicator light for the memory switch being set is illuminated for 5 seconds, press the

button on the keyfob.
The indicator light will blink. After the indicator light goes off, the keyfob is linked to that memory setting.
With the ignition switch placed in the OFF position, press the

button on the keyfob. The driver's seat, steering wheel and outside mirrors will move to the memorized position.
NOTE:
If a new memory position is saved to the memory switch, the keyfob automatically re-links.
See also:
Parking/parking on hills
Parking/parking on hills WARNING • Do not stop or park the vehicle over flammable materials such as dry grass, waste paper or rags. They may ignite and cause a fire.• Never leave the engine runnin ...
How to handle the sensor
The sensor for the Preview Function is common with Intelligent Cruise Control and is located below the front bumper. To keep the Preview Function operating properly, be sure to observe the following: ...
Rear display settings
To adjust the rear display settings, select the preferred key and press the ENTER button. The following settings are available: Aspect: Select the display size from "CINEMA", "WIDE", "FULL" or "NOR ...