Memory storage function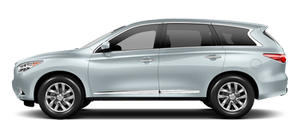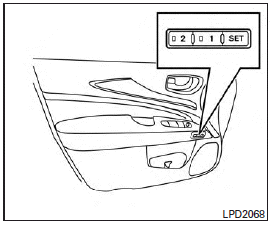 Two positions for the driver's seat, steering column, and outside mirrors can be stored in the automatic drive positioner memory. Follow these procedures to use the memory system.
1. Set the Continuously Variable Transmission (CVT) shift selector to the P (Park) position.
2. Place the ignition in the ON position.
3. Adjust the driver's seat, steering column, and outside mirrors to the desired positions by manually operating each adjusting switch. For additional information, see "Seats" in the "Safety—Seats, seat belts and supplemental restraint system" section, and "Tilt/Telescopic Steering" and "Outside mirrors" in this section.
During this step, do not place the ignition switch in any position other than ON.
4. Push the SET switch and, within 5 seconds, push the memory switch (1 or 2).
The indicator light for the pushed memory switch will come on and stay on for approximately 5 seconds after pushing the switch.
After the indicator light goes off, the selected positions are stored in the selected memory (1 or 2).
If a new memory is stored in the same memory switch, the previous memory will be deleted.
See also:
Off-road recovery
If the right side or left side wheels may unintentionally leave the road surface. Maintain control of the vehicle by following the procedure below. Please note that this procedure is only a general g ...
Oil viscosity
The engine oil viscosity or thickness changes with temperature. Because of this, it is important that the engine oil viscosity be selected based on the temperatures at which the vehicle will be operat ...
Before starting the engine
● Make sure the area around the vehicle is clear. ● Check fluid levels such as engine oil, coolant, brake fluid, and windshield-washer fluid as frequently as possible, or at least whene ...