How to select menus on the screen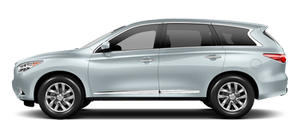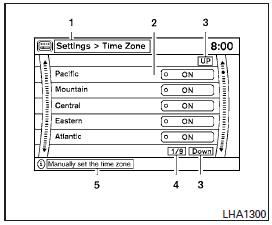 Vehicle functions are viewed on the center display screen in menus. Whenever a menu selection is made or menu item is highlighted, different areas on the screen provide you with important information. See the following for details:
1. Header:
Shows the path used to get to the current screen (for example, press the SETTING button > then select the "Clock" key, then select the "Time Zone" key).
2. Menu Selections:
Shows the options to choose within that menu screen (for example, Pacific time zone, Mountain time zone, etc.).
3. UP/DOWN Movement Indicator:
Shows that the INFINITI controller may be used to move UP/DOWN on the screen and select more options.
4. Screen Count:
Shows the number of menu selections available for that screen (for example, 1/9).
5. Footer/Information Line:
Provides more information (if available) about the menu selection currently highlighted (for example, manually set the time zone).
See also:
Receiving a call
When you hear a phone ring, the display will change to the incoming call mode. To receive a call, perform one of the following procedures listed below. 1. Select the "Answer" key. 2. Push ...
Changing engine oil filter
1. Park the vehicle on a level surface and apply the parking brake. 2. Turn the engine off. 3. Place a large drain pan under the oil filter A . 4. Loosen the oil filter A with an oil filter ...
Locking doors
1. Move the shift selector to the P (Park) position, place the ignition switch in the LOCK position and make sure you carry the Intelligent Key with you. 2. Close all doors. 3. Push any door h ...