How to select menus on the screen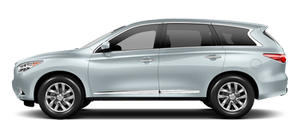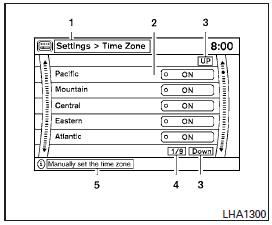 Vehicle functions are viewed on the center display screen in menus. Whenever a menu selection is made or menu item is highlighted, different areas on the screen provide you with important information. See the following for details:
1. Header:
Shows the path used to get to the current screen (for example, press the SETTING button > then select the "Clock" key, then select the "Time Zone" key).
2. Menu Selections:
Shows the options to choose within that menu screen (for example, Pacific time zone, Mountain time zone, etc.).
3. UP/DOWN Movement Indicator:
Shows that the INFINITI controller may be used to move UP/DOWN on the screen and select more options.
4. Screen Count:
Shows the number of menu selections available for that screen (for example, 1/9).
5. Footer/Information Line:
Provides more information (if available) about the menu selection currently highlighted (for example, manually set the time zone).
See also:
Infants
Infants up to at least 1 year old should be placed in a rear-facing child restraint. INFINITI recommends that infants be placed in child restraints that comply with Federal Motor Vehicle Safet ...
Regulatory information
FCC Regulatory information ► CAUTION: To maintain compliance with FCC's RF exposure guidelines, use only the supplied antenna. Unauthorized antenna, modification, or attachments could d ...
How Does It Stack Up?
Draw comparisons to the M or AMG bunch, and this Infiniti does not. It is a tad coarse compared with even a BMW 335i coupe or Audi S5. The VQ-series engine isn't as smooth as a Bimmer's, and the I ...