How to read the displayed lines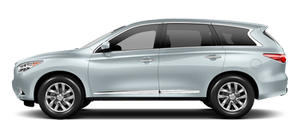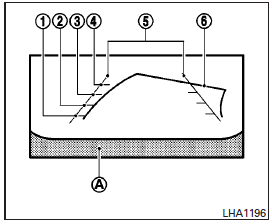 Guiding lines which indicate the vehicle width and distances to objects with reference to the vehicle body line A are displayed on the monitor.
Distance guide lines:
Indicate distances from the vehicle body.
● Red line 1 : approx. 1.5 ft (0.5 m)
● Yellow line 2 : approx. 3 ft (1 m)
● Green line 3 : approx. 7 ft (2 m)
● Green line 4 : approx. 10 ft (3 m)
Vehicle width guide lines 5 :
Indicate the vehicle width when backing up.
Predicted course lines 6 :
Indicate the predicted course when backing up.
The predicted course lines will be displayed on the monitor when the shift selector is in the R (Reverse) position and the steering wheel is turned. The predicted course lines will move depending on how much the steering wheel is turned and will not be displayed while the steering wheel is in the neutral position.
The vehicle width guide lines and the width of the predicted course lines are wider than the actual width and course.
WARNING
● Always turn and check that it is safe to do so before backing up. Always back up slowly.
● If the tires are replaced with different sized tires, the predicted course lines may be displayed incorrectly.
● On a snow-covered or slippery road, there may be a difference between the predicted course line and the actual course line.
● The distance guide line and the vehicle width line and predicted course lines should be used as a reference only when the vehicle is on a level paved surface. The distance viewed on the monitor is for reference only and may be different than the actual distance between the vehicle and displayed objects.
● When backing up the vehicle up a hill, objects viewed in the monitor are further than they appear. When backing up the vehicle down a hill, objects viewed in the monitor are closer than they appear.
Use the inside mirror or glance over your shoulder to properly judge distances to other objects.
See also:
CD/DVD/USB memory care and cleaning
CD/DVD ► Handle a CD/DVD by its edges. Never touch the surface of the disc. Do not bend the disc. ► Always place the discs in the storage case when they are not being used. ...
Displaying user guide
If you use the INFINITI Voice Recognition system for the first time or you do not know how to operate it, you can display the User Guide for confirmation. You can confirm how to use voice commands by ...
Oil additives
INFINITI does not recommend the use of oil additives. The use of an oil additive is not necessary when the proper oil type is used and maintenance intervals are followed. Oil which may contain foreig ...