On-pavement and off-road driving precautions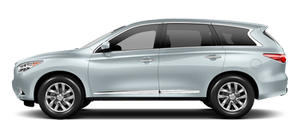 Utility vehicles have a significantly higher rollover rate than other types of vehicles.
They have higher ground clearance than passenger cars to make them capable of performing in a variety of on-pavement and off-road applications.
This gives them a higher center of gravity than ordinary cars. An advantage of higher ground clearance is a better view of the road, allowing you to anticipate problems. However, they are not designed for cornering at the same speeds as conventional two-wheel drive vehicles any more than low-slung sports cars are designed to perform satisfactorily under off-road conditions. If at all possible, avoid sharp turns at high speeds. As with other vehicles of this type, failure to operate this vehicle correctly may result in loss of control or vehicle rollover. In a rollover crash, an unbelted person is significantly more likely to die than a person wearing a seat belt.
Be sure to read the driving safety precautions later in this section.
See also:
Precautions when starting and driving
WARNING • Do not leave children or adults who would normally require the support of others alone in your vehicle. Pets should not be left alone either. They could accidentally injure themselves or ot ...
Seat belt maintenance
• To clean the seat belt webbing, apply a mild soap solution or any solution recommended for cleaning upholstery or carpets. Then, wipe with a cloth and allow the seat belts to dry in the shade. Do n ...
Standard and optional equipment
Infiniti G37 Coupé has a full complement of user friendly - and above all, useful - standard equipment, plus options for those who want to make even more of a statement. Standard features ...