PREVIEW FUNCTION (for Intelligent Cruise Control system equipped models)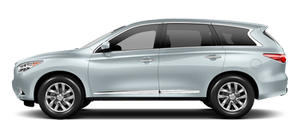 The ICC system with the preview function identifies the need to apply emergency braking by sensing the vehicle ahead in the same lane and the distance to the vehicle ahead and relative speed from it, it applies the brake pre-pressure before the driver depresses the brake pedal and helps improve brake response by reducing pedal free play.
For more details, see "Brake assist" in this section.
See also:
AM radio reception
AM signals, because of their low frequency, can bend around objects and skip along the ground. In addition, the signals can be bounced off the ionosphere and bent back to earth. Because of these ch ...
Setting hazard indicator and horn mode
This vehicle is set in hazard indicator and horn mode when you first receive the vehicle. In hazard indicator and horn mode, when the LOCK button 1 is pushed, the hazard indicator flashes twice an ...
Uniform tire quality grading
DOT (Department Of Transportation) Quality Grades: All passenger car tires must conform to federal safety requirements in addition to these grades. Quality grades can be found where applicable on the ...