Freeing a frozen door lock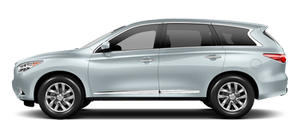 To prevent a door lock from freezing, apply deicer through the key hole. If the lock becomes frozen, heat the key before inserting it into the key hole, or use the INFINITI Intelligent Key.
See also:
2010 Infiniti FX35 Review
During a recent kid-free weekend, I happened to be test driving the 2010 Infiniti FX35. For the grown-ups-only weekend, I decided to do a trek from Denver to Steamboat Springs, Colo. As much as I ...
Operating manual lift gate
To open the lift gate, unlock it and push the lift gate opener switch A . Pull up the lift gate to open. The lift gate can be unlocked by: ► pushing the unlock button on the Intellig ...
Emergency engine shut off
To shut off the engine in an emergency situation while driving, perform the following procedure: . Rapidly push the push-button ignition switch 3 consecutive times in less than 1.5 seconds, or . Push ...