Underbody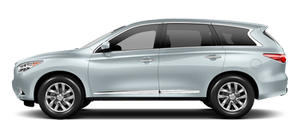 In areas where road salt is used in winter, it is necessary to clean the underbody regularly in order to prevent dirt and salt from building up and causing the acceleration of corrosion on the underbody and suspension. Before the winter period and again in the spring, the underseal must be checked and, if necessary, retreated.
See also:
Distance Control Assist (DCA) system (if so equipped)
The Distance Control Assist (DCA) system brakes and moves the accelerator pedal upward according to the distance from and the relative speed of the vehicle ahead to help assist the driver to maintain ...
Summer tires
INFINITI specifies summer tires on some models to provide superior performance on dry roads. Summer tire performance is substantially reduced in snow and ice. Summer tires do not have the tire tracti ...
Vehicle phonebook
This vehicle has two phonebooks available for your use. Depending on your phone, the system may automatically download your entire cell phone's phonebook into the "Handset Phonebook". For the det ...