Aluminum alloy wheels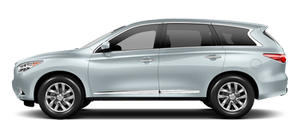 Wash the wheels regularly with a sponge dampened in a mild soap solution, especially during winter months in areas where road salt is used. If not removed, road salt can discolor the wheels.
CAUTION
Follow the directions below to avoid staining or discoloring the wheels:
● Do not use a cleaner that uses strong acid or alkali contents to clean the wheels.
● Do not apply wheel cleaners to the wheels when they are hot. The wheel temperature should be the same as ambient temperature.
● Rinse the wheel to completely remove the cleaner within 15 minutes after the cleaner is applied.
See also:
Push-button ignition switch
WARNING Do not operate the push-button ignition switch while driving the vehicle except in an emergency. (The engine will stop when the ignition switch is pushed 3 consecutive times or the ignition s ...
Off-road recovery
If the right side or left side wheels unintentionally leave the road surface, maintain control of the vehicle by following the procedure below. Please note that this procedure is only a general guide. ...
Pulling a stuck vehicle
If your vehicle is stuck in sand, snow, mud, etc., use a tow strap or other device designed specifically for vehicle recovery. Always follow the manufacturer's instructions for the recovery device. ...