Interior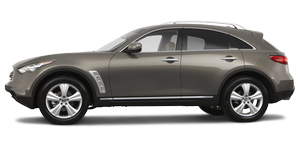 The interior of the FX is right in line with most current Infinitis, like the G and M sedans, but I thought it should have been a bit fancier, like the new EX35 crossover that debuted earlier this year. That smaller crossover has remarkably upscale leather seats, and the upgraded leather thrones in my FX didn't quite measure up.
It doesn't even measure up to the sparse yet sophisticated interior of the brutish BMW X6, though the X6 starts about $10,000 more. These interiors are definitely not $10,000 apart.
My test vehicle had an all-black interior with Graphite leather. There are two other leather color choices: a dark brown called Java and a lighter tan called Wheat. I found the dark interior pretty overwhelming, but I'm not sure if the other options would match the personality of the FX like the dark palette did.
Backseat room is much improved in the new FX; there's more headroom, and with seatbacks that recline it's now a proper place to put friends and family. My wife always complained about the old FX's backseat and how cramped it was. After an hour-long trip in the rear seat of the new one, sitting next to a child-safety seat, she thought it was plenty spacious.
My biggest issue with the FX's interior is the small cargo area, which offers 24.8 cubic feet of space. That may be bigger than the BMW X6's 20.1 cubic feet, but it's dwarfed by more conventionally shaped SUVs like the Audi Q7 and its 42.0 cubic feet. What this means in the real world is that while the FX can handle a grocery, Costco and dry-cleaner run just fine, don't expect to be able to get too many awkwardly shaped boxes or Home Depot purchases in there. Nor the family dog: My 60-pound boxer wouldn't fit back there, as it was too cramped with the seats up. She ended up riding shotgun.
Obviously not every buyer needs that room, and this is the point where the FX's style impacts its utility. It's really just a sedan alternative with some extra cargo room, not a true utility vehicle.
See also:
Preview function (for Intelligent Cruise Control (ICC) system equipped model)
The Intelligent Cruise Control (ICC) system with the preview function identifies the need to apply emergency braking by sensing the vehicle ahead in the same lane and the distance to the vehic ...
Adaptive shift control (ASC)
The adaptive shift control system automatically operates when the transmission is in the "D" (drive) and "DS" (Drive Sport) position and selects an appropriate gear depending on th ...
Family lifestage
In Diapers: It'd be a tight fit for rear-facing infant seats but doable. In School: Booster seats fit well, and there's plenty of cargo space for backpacks and other gear. ...