Performance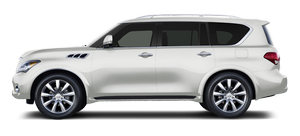 For a massive SUV, the QX56 is a surprising performer. The 5.6-liter V-8 makes 400 horsepower and 413 pounds-feet of torque. Combined with a seven-speed automatic transmission, the QX accelerates as briskly as a sport sedan of a decade ago. Our friends at "MotorWeek" tested the QX's zero to 60 mph acceleration at 6.3 seconds and its quarter-mile at 14.9 seconds. Those are entirely respectable numbers for a 5,800-pound SUV.
The QX56's EPA-estimated mileage is expectedly low, at 14/20 mpg city/highway with rear- or all-wheel drive, but that is an improvement over the 2010 QX's 12/18 mpg with rear-wheel drive and 12/17 mpg with all-wheel drive. I averaged around 15 mpg during testing that accumulated 1,000-plus miles traveling between Illinois and Michigan. These weren't only highway miles, as we also used the QX as a chase car to haul video equipment and crew.
Despite being built on truck architecture, the QX's ride isn't trucklike at all. It rides smoothly and confidently, even on the massive 22-inch wheels that are part of an optional Deluxe Package. I would even call the QX fun to drive, especially considering the redesigned Lexus GX 460 rolls into corners like a boat, nosedives during braking and squats on acceleration.
One option that may have helped the QX feel so composed was its Hydraulic Body Motion Control, also part of the Deluxe Package. The system's shock absorbers transfer fluid from one side's shock to the other during cornering to combat body roll.
See also:
Treadwear
The treadwear grade is a comparative rating based on the wear rate of the tire when tested under controlled conditions on a specified government test course. For example, a tire graded 150 would wear ...
Injured persons
INFINITI recommends that injured persons use seat belts, depending on the injury. Check with your doctor for specific recommendations. ...
All-Wheel Drive (AWD) driving safety precautions
WARNING • Do not drive beyond the performance capability of the tires, even with AWD engaged. Accelerating quickly, sharp steering maneuvers or sudden braking may cause loss of control.• Always use t ...