Exterior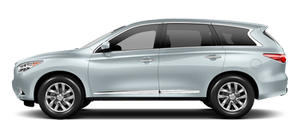 The JX's sleek design is decidedly Infiniti, echoing many of the same design cues as every other car in the luxury brand's product lineup. It's sleek and modern, with exterior dimensions that make it look leaner than its competitors, the Acura MDX, Audi Q7 and Lincoln MKT, though it manages to pack in more cargo space and legroom than the MDX and Q7. It looks as if it's been practicing traditional Ashtanga yoga for years. (See all three models compared.)
The JX35 I test-drove was clad in a gorgeous Emerald Graphite color, thanks to Barbara's input. She was bold enough to let Sean know how "predictable" (i.e., boring) the original color lineup was. She pushed for this Emerald Graphite color to add character to Infiniti's premium image, and it works. While it's neither overtly feminine nor trendy, it is subtle, classy and just different enough to stand out from the crowd.
You won't be embarrassed to valet this car when you leave the kids with the sitter and meet some friends out at that hot new foodie spot in town. How, you ask, will you get reservations? Your friendly personal assistant Ч available 24/7 courtesy of Infiniti for four years after making your purchase Ч might be able to pull a string or two. The assistant can also provide driving directions, which might be handy for buyers of the base FX35, which doesn't include a navigation system. It comes in the optional Premium Package.
See also:
EX35 in the Market
In a segment dominated by the RX, the EX is still a bit player in terms of sales, on par with the likes of the RDX, XC60 and once-venerable X3. It might be easy to cast off the Infiniti as an also ...
Compressed Video Files (models with navigation system)
Explanation of terms: Х DivXЃ - DivXЃ refers to the DivXЃ codec owned by DivX, Inc. used for a lossy compression of video based on MPEG- 4. Х AVI - AVI stands for Audio Video Interleave. It is a sta ...
Approach warning
If your vehicle comes closer to the vehicle ahead due to rapid deceleration of that vehicle or if another vehicle cuts in, the system warns the driver with the chime and ICC system display. Deceler ...