2013 Infiniti JX35 Review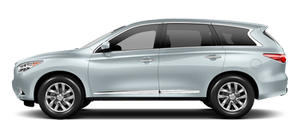 Don't you ever wish car companies would get with the program and hire a real expert? Not some stuffy pinstriped suit but rather a parent, like yourself, who has the same automotive needs, wants and wishes? Someone who knows what a pain it is to get into a third-row seat if you have child-safety seats installed in the second row?
If you're looking for a car that solves many family-car woes, check out the new 2013 Infiniti JX35, whose product manager is just like you — a busy parent.
While I'm grateful for product manager Sean McNamara's input into the JX35, the real heroes behind the scenes are his 9-year-old daughter Georgia, 11-year-old son Riley and, especially, his wife of 19 years, Barbara.
Because Georgia and Riley are still in booster seats (reluctantly), Sean and Barbara know what a pain it is to access the third row. This sentiment was echoed loudly during Infiniti's in-house study of how other busy families use their cars. The result? A sleek new crossover in which your kids and your carpool can still get into the third row, even if you have child seats installed in the second row.
See also:
It's the little things that count
Storage Compartments (Puny, Fair, Ample, Galore): Puny Cargo/Trunk Space (Puny, Fair, Ample, Galore): Ample ...
Sonar settings (if so equipped)
The "Sonar" screen will appear when selecting the "Sonar" key with the INFINITI controller and pushing the ENTER button. For the details of the sonar system operation, see "Sonar system". Sonar Di ...
When reading the manual
This manual includes information for all options available on this model. Therefore, you may find some information that does not apply to your vehicle. All information, specifications and illustratio ...