FX in the Market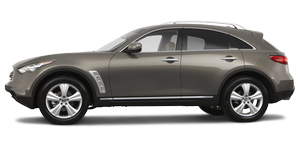 Off-road SUVs proliferated before their numbers thinned, leaving healthy demand for stalwarts like Jeep. Conversely, SUVs designed primarily for on-road sport, like the FX, didn't become a significant subsegment. Does that mean the FX will remain a niche favorite, or will it lose its appeal? As drivability improves among more versatile crossover models Ч including Infiniti's new JX model, a seven-seater Ч the FX's limitations seem greater. They might even be greater than whatever performance advantages it brings Ч especially if you object to the transmission's behavior.
We at Cars.com frequently criticize vehicles that exhibit accelerator hesitation Ч certainly more than most review sources do. Why there isn't more outcry baffles us. It's possible you could drive an FX happily and never object to its behavior, but you should be sure to pay attention when testing it. It's easy to miss important attributes in the excitement and sensory overload of a test drive.
See also:
ECO mode
Adjusts engine and transmission points to enhance fuel economy. NOTE: Selecting this drive mode will not necessarily improve fuel economy as many driving factors influence its effectiveness. Oper ...
Radar maintenance
The two radar sensors for the BSW, BSI and BCI systems are located near the rear bumper. Always keep the area near the radar sensors clean. The radar sensors may be blocked by temporary ambient con ...
Engine coolant temperature gauge
Engine coolant temperature gauge The gauge indicates the engine coolant temperature. The engine coolant temperature is within the normal range when the gauge needle points within the zone 1 show ...