FX in the Market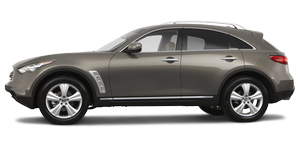 Off-road SUVs proliferated before their numbers thinned, leaving healthy demand for stalwarts like Jeep. Conversely, SUVs designed primarily for on-road sport, like the FX, didn't become a significant subsegment. Does that mean the FX will remain a niche favorite, or will it lose its appeal? As drivability improves among more versatile crossover models Ч including Infiniti's new JX model, a seven-seater Ч the FX's limitations seem greater. They might even be greater than whatever performance advantages it brings Ч especially if you object to the transmission's behavior.
We at Cars.com frequently criticize vehicles that exhibit accelerator hesitation Ч certainly more than most review sources do. Why there isn't more outcry baffles us. It's possible you could drive an FX happily and never object to its behavior, but you should be sure to pay attention when testing it. It's easy to miss important attributes in the excitement and sensory overload of a test drive.
See also:
Displaying user guide
You can confirm how to use voice commands by accessing a simplified User Guide, which contains basic instructions and tutorials for several voice commands. 1. Push the INFO button on the instrument ...
Warning systems switch (if so equipped)
The warning systems switch is used to turn on and off the warning systems (Forward Collision Warning (FCW), Lane Departure Warning (LDW) and Blind SpotWarning (BSW) systems) that are activated using ...
Temperature A, B and C
The temperature grades A (the highest), B, and C, representing the tireТs resistance to the generation of heat and its ability to dissipate heat when tested under controlled conditions on a specified ...