Exterior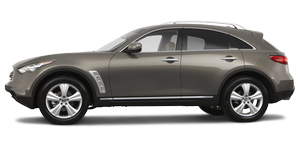 The first time I drove the FX was nearly five years ago. Back then the "SUV with a heart of a sports car" was edgy-looking and different from anything else on the road. The design hasn't changed much between then and now, although times have. What was unique five years ago is sort of normal-looking now.
The FX's aggressive appearance is assisted by huge tires and a sleek, sloping roofline. The downside to its shape is a lack of rear visibility. The bonus-sized side mirrors blocked a portion of my front/side view out the driver and passenger windows. An interesting shaped hood gives the FX an angry snarling dog look, but it also cuts down on some over-the-hood visibility.
In spite of being loaded with the $2,000 Premium Package, $2,800 Navigation Package and $2,900 Technology Package, the FX lacked an automatic liftgate. For this amount of dough, I should at very least be able to have a magical mommy's helper in the form of an automatic liftgate to assist me.
And speaking of assistance, my kids needed a little extra when trying to open and close the doors. The weighty feel of them made it tough for little ones to pull open and then push closed.
Although I used to love the unique design of the FX, I think it needs some design updates to modernize it and improve the functionality.
See also:
Underbody
In areas where road salt is used in winter, it is necessary to clean the underbody regularly in order to prevent dirt and salt from building up and causing the acceleration of corrosion on the underbo ...
Exterior and interior lights
: See an INFINITI retailer for replacement. NOTE: Always check with the Parts Department at an INFINITI retailer for the latest information about parts. Replacement procedures All other ligh ...
Brake assist
When the force applied to the brake pedal exceeds a certain level, the Brake Assist is activated generating greater braking force than a conventional brake booster even with light pedal force. ...