Read first — then drive safely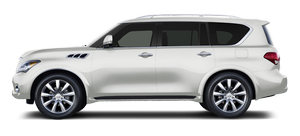 Before driving your vehicle, read your Owner's Manual carefully. This will ensure familiarity with controls and maintenance requirements, assisting you in the safe operation of your vehicle.

WARNING
IMPORTANT SAFETY INFORMATION REMINDERS FOR SAFETY! Follow these important driving rules to help ensure a safe and comfortable trip for you and your passengers!
► NEVER drive under the influence of alcohol or drugs.
► ALWAYS observe posted speed limits and never drive too fast for conditions.
► ALWAYS give your full attention to driving and avoid using vehicle features or taking other actions that could distract you.
► ALWAYS use your seat belts and appropriate child restraint systems. Pre-teen children should be seated in the rear seat.
► ALWAYS provide information about the proper use of vehicle safety features to all occupants of the vehicle.
► ALWAYS review this Owner's Manual for important safety information.
ON-PAVEMENT AND OFF-ROAD DRIVING
This vehicle will handle and maneuver differently from an ordinary passenger car because it has a higher center of gravity for off-road use. As with other vehicles with features of this type, failure to operate this vehicle correctly may result in loss of control or an accident. Be sure to read "On-pavement and off-road driving precautions", "Avoiding collision and rollover" and "Driving safety precautions" in the "5. Starting and driving" section of this manual.
MODIFICATION OF YOUR VEHICLE This vehicle should not be modified. Modification could affect its performance, safety or durability, and may even violate governmental regulations. In addition, damage or performance problems resulting from modification will not be covered under the INFINITI warranties.
See also:
Exterior styling
A long bonnet, short overhangs and dramatically raked roof line give the Infiniti G37 Coupé a silhouette that sets it apart from rival products based more heavily on their saloon counterpar ...
Brake assist
When the force applied to the brake pedal exceeds a certain level, the Brake Assist is activated generating greater braking force than a conventional brake booster even with light pedal force. ...
Power steering
WARNING ● If the engine is not running or is turned off while driving, the power assist for the steering will not work. Steering will be harder to operate. ● When the power steering ...