2009 Infiniti FX35 Review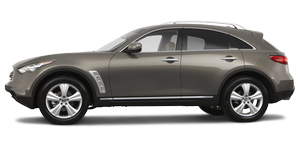 Not many people need a sporty luxury SUV like the Infiniti FX. You either want the utility of an SUV or the sportiness of a sedan or coupe Ч why would you compromise both for an unwieldy hybrid of the two? Maybe looks have more to do with popularity than anything else, though, and the new 2009 Infiniti FX Ч along with its just-introduced competition, the BMW X6 Ч offers style to make up for the compromised substance.
I drove both the all-new BMW X6 and the redesigned 2009 FX back-to-back on and around Wisconsin's Road America raceway and found the X6 the far superior vehicle. After living with both in the real world, though, and spending a full week with the FX35, it's glaringly apparent that the FX is the real winner when it comes to real-world use Ч even if it is pricey and doesn't hold a lot of cargo or give a commanding view of the road. Plus, my dog couldn't ride in the back because of the sloping roofline.
Oh, and one more thing I learned from my week of testing: I really want an Infiniti FX35.
See also:
Keys
A key number plate is supplied with your keys. Record the key number and keep it in a safe place (such as your wallet), not in the vehicle. If you lose your keys, see an INFINITI retailer for ...
E-85 fuel
E-85 fuel is a mixture of approximately 85% fuel ethanol and 15% unleaded gasoline. E-85 can only be used in a Flexible Fuel Vehicle (FFV). Do not use E- 85 fuel in your vehicle. U.S. government regul ...
Tow mode switch
TOW MODE should be used when pulling a heavy trailer or hauling a heavy load. Driving the vehicle in TOW MODE with no trailer/load or light trailer/light load will not cause any damage. Howe ...