Foreword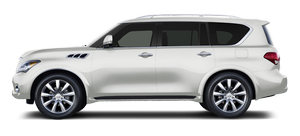 Your INFINITI represents a new way of thinking about vehicle design. It integrates advanced engineering and superior craftsmanship with a simple, refined aesthetic sensitivity associated with traditional Japanese culture. The result is a different notion of luxury and beauty. The car itself is important, but so is the sense of harmony that the vehicle evokes in its driver, and the sense of satisfaction you feel with the INFINITI — from the way it looks and drives to the high level of retailer service. To ensure that you enjoy your INFINITI to the fullest, we encourage you to read this Owner's Manual immediately. It explains all of the features, controls and performance characteristics of your INFINITI; it also provides important instructions and safety information. A separate Warranty Information Booklet is included in your Owner's literature portfolio. The INFINITI Service and Maintenance Guide explains details about maintaining and servicing your vehicle. Always carry it with you when you take your vehicle to an INFINITI retailer. The Warranty Information Booklet contents provide complete information about all warranties covering this vehicle, the requirements to keep the warranties in effect as well as the INFINITI Roadside Assistance program. Additionally, a separate Customer Care and Lemon Law Information Booklet will explain how to resolve any concerns you may have with your vehicle, as well as clarify your rights under your state's lemon law. In addition to factory installed options, your vehicle may also be equipped with additional accessories installed by INFINITI or by your INFINITI retailer prior to delivery. It is important that you familiarize yourself with all disclosures, warnings, cautions and instructions concerning proper use of such accessories prior to operating the vehicle and/or accessory. See an INFINITI retailer for details concerning the particular accessories with which your vehicle is equipped.
See also:
Touch screen operation
With this system, the same operations as those for the INFINITI controller are possible using the touch screen operation. Selecting the item: Touch an item to select it. To select the "Audio" sett ...
Behind the wheel
The EX's 297-horsepower, 3.5-liter V-6 engine was pure joy to drive. The all-wheel-drive EX had the perfect balance of sporty and responsive acceleration, informative road feedback and stability w ...
Removing spots
Remove tar and oil spots, industrial dust, insects, and tree sap as quickly as possible from the paint surface to avoid lasting damage or staining. Special cleaning products are available at an INFINI ...