Foreword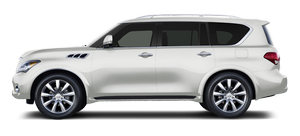 Your INFINITI represents a new way of thinking about vehicle design. It integrates advanced engineering and superior craftsmanship with a simple, refined aesthetic sensitivity associated with traditional Japanese culture. The result is a different notion of luxury and beauty. The car itself is important, but so is the sense of harmony that the vehicle evokes in its driver, and the sense of satisfaction you feel with the INFINITI — from the way it looks and drives to the high level of retailer service. To ensure that you enjoy your INFINITI to the fullest, we encourage you to read this Owner's Manual immediately. It explains all of the features, controls and performance characteristics of your INFINITI; it also provides important instructions and safety information. A separate Warranty Information Booklet is included in your Owner's literature portfolio. The INFINITI Service and Maintenance Guide explains details about maintaining and servicing your vehicle. Always carry it with you when you take your vehicle to an INFINITI retailer. The Warranty Information Booklet contents provide complete information about all warranties covering this vehicle, the requirements to keep the warranties in effect as well as the INFINITI Roadside Assistance program. Additionally, a separate Customer Care and Lemon Law Information Booklet will explain how to resolve any concerns you may have with your vehicle, as well as clarify your rights under your state's lemon law. In addition to factory installed options, your vehicle may also be equipped with additional accessories installed by INFINITI or by your INFINITI retailer prior to delivery. It is important that you familiarize yourself with all disclosures, warnings, cautions and instructions concerning proper use of such accessories prior to operating the vehicle and/or accessory. See an INFINITI retailer for details concerning the particular accessories with which your vehicle is equipped.
See also:
Rocking a stuck vehicle
If your vehicle is stuck in sand, snow, mud, etc., use the following procedure: 1. Turn off the Vehicle Dynamic Control (VDC) system. 2. Make sure the area in front and behind the vehicle is clear of ...
BCI system operation
● When the radar sensors may not be able to detect certain objects such as: – Pedestrians, bicycles, animals – A vehicle that passing at speeds greater than approximately 15 MPH (24 km/h ...
Tow mode
The TOW MODE should be used when pulling a heavy trailer or hauling a heavy load. Driving the vehicle in the TOW MODE with no trailer/load or light trailer/light load will not cause any dama ...