Infiniti customer care program infiniti cares ...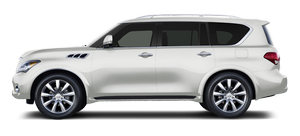 Both INFINITI and your INFINITI retailer are dedicated to serving all your automotive needs. Your satisfaction with your vehicle and your INFINITI retailer are our primary concerns. Your INFINITI retailer is always available to assist you with all your automobile sales and service needs. However, if there is something that your INFINITI retailer cannot assist you with or you would like to provide INFINITI directly with comments or questions, please contact our (INFINITI's) Consumer Affairs Department using our toll-free number:
For U.S. customers
1-800-662-6200
For Canadian customers
1-800-361-4792
The Consumer Affairs Department will ask for the following information:
► Your name, address, and telephone number
► Vehicle identification number (on dash panel)
► Date of purchase
► Current odometer reading
► Your INFINITI retailer's name
► Your comments or questions
OR
You can write to INFINITI with the information on the left at: For U.S. customers INFINITI Division
Nissan North America, Inc.
Consumer Affairs Department P.O. Box 685003
Franklin, TN 37068-5003 or via e-mail at:
nnaconsumeraffairs@nissan-usa.com For Canadian customers
INFINITI Division
Nissan Canada Inc. 5290 Orbitor Drive
Mississauga, Ontario L4W 4Z5 or via e-mail at:
information.centre@nissancanada. com
If you prefer, visit us at:
www.infinitiusa.com (for U.S. customers)
or
www.infiniti.ca (for Canadian customers)
We appreciate your interest in INFINITI and thank you for buying a quality INFINITI vehicle
See also:
2013 Infiniti JX35 Review
Don't you ever wish car companies would get with the program and hire a real expert? Not some stuffy pinstriped suit but rather a parent, like yourself, who has the same automotive needs, wants an ...
Intelligent Key
Your vehicle can only be driven with the Intelligent Keys which are registered to your vehicle's Intelligent Key system components and INFINITI Vehicle Immobilizer System components. As many a ...
Changing a flat tire
If you have a flat tire, follow the instructions below. Stopping the vehicle 1. Safely move the vehicle off the road and away from traffic. 2. Turn on the hazard warning flashers. 3. Park on ...