Infiniti customer care program infiniti cares ...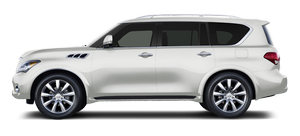 Both INFINITI and your INFINITI retailer are dedicated to serving all your automotive needs. Your satisfaction with your vehicle and your INFINITI retailer are our primary concerns. Your INFINITI retailer is always available to assist you with all your automobile sales and service needs. However, if there is something that your INFINITI retailer cannot assist you with or you would like to provide INFINITI directly with comments or questions, please contact our (INFINITI's) Consumer Affairs Department using our toll-free number:
For U.S. customers
1-800-662-6200
For Canadian customers
1-800-361-4792
The Consumer Affairs Department will ask for the following information:
► Your name, address, and telephone number
► Vehicle identification number (on dash panel)
► Date of purchase
► Current odometer reading
► Your INFINITI retailer's name
► Your comments or questions
OR
You can write to INFINITI with the information on the left at: For U.S. customers INFINITI Division
Nissan North America, Inc.
Consumer Affairs Department P.O. Box 685003
Franklin, TN 37068-5003 or via e-mail at:
nnaconsumeraffairs@nissan-usa.com For Canadian customers
INFINITI Division
Nissan Canada Inc. 5290 Orbitor Drive
Mississauga, Ontario L4W 4Z5 or via e-mail at:
information.centre@nissancanada. com
If you prefer, visit us at:
www.infinitiusa.com (for U.S. customers)
or
www.infiniti.ca (for Canadian customers)
We appreciate your interest in INFINITI and thank you for buying a quality INFINITI vehicle
See also:
How to use SETTING button
How to use SETTING button The display as illustrated will appear when the SETTING button is pushed. For navigation settings, refer to the separate Navigation System Owner's Manual. ...
Preview function (Intelligent Cruise Control system equipped models)
When the Preview Function identifies the need to apply emergency braking by sensing a vehicle ahead in the same lane and the distance and relative speed from it, it applies the brake pre-press ...
4 Wheel Active Steer (4WAS) system (if so equipped)
The 4 Wheel Active Steer (4WAS) system is an electronically controlled four-wheel steering system. Depending on the vehicle speed and steering angle, the angles of the front and rear wheels are adjus ...