A look inside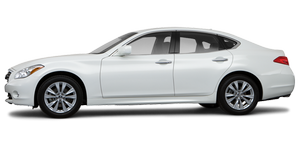 The new Infiniti M has an interior every bit as carefully crafted as its exterior. The result of extensive research by engineers and designers into every aspect of the cabin, from the shape of the switches to the softness of the textures, the aim was to create Infiniti's best saloon car interior ever, with human warmth and an outstanding level of luxury appointments. And all with that most important of Infiniti traits: a clear focus on the driver.
Mission accomplished then. The Infiniti M cabin's wow factor begins as soon as a door is opened: there can be no missing the perception of quality in everything that is seen, touched and felt - right down to the smallest details. Combining vibrant, Japanese-influenced design and luxury materials, it is an immediately alluring, sensual place, as well as notably spacious. The M's wheelbase, at 2900mm, is longer than that of most competitors and this shows inside where there is plenty of room for five adults.
Attention to detail inside takes many forms. Handcrafted wood accents, for example, have been treated with a unique powdered silver for a mirror-like finish that takes tradition into a modern age. The standard leather is quilted, but for those who want an even more sumptuous finish there's the availability of semi-aniline leather. Distinctively textured aluminium highlights and, as standard, piano black trim make the cabin especially inviting.
The signature Infiniti dashboard clock - always analogue - is reinvented in rectangular form, an elegant touch at the centre of the imposing new dashboard that blends luxury with technology in seamless fashion. The new dashboard also demonstrates Infiniti's commitment to ergonomic excellence. The instrument panel features "Fine Vision" electroluminescent gauges and logically grouped controls for maximum ease of use. In addition, with the Infiniti M Line, Infiniti is introducing a bespoke new generation of switchgear.
Although prices, range structure and standard specifications are yet to be confirmed for European markets, the Infiniti M is expected to follow in the tyre tracks of the G, EX and FX Lines in offering exceptional levels of standard equipment. Available features include climate control seats, bi-Xenon adaptive front lighting, premium Bose sound system, 10-way power adjusted heated leather front seats, heated steering wheel and the all-embracing Connectiviti+ multimedia platform with 8-inch VGA colour touch-screen display for the hard disk drive navigation which includes - uniquely - the Michelin Green Guide with information on hotels, restaurants, places of interest and even scenic driving routes.
See also:
Brake assist (if so equipped)
When the force applied to the brake pedal exceeds a certain level, the brake assist is activated generating greater braking force than a conventional brake booster even with light pedal force. WARNIN ...
M in the Market
The M is as competitive as ever, and not just in a practical way. This car is fun — to drive, to look at, to sit in. In a field of climbing prices and checkered quality, it's nice to see an old fa ...
How Does It Stack Up?
Draw comparisons to the M or AMG bunch, and this Infiniti does not. It is a tad coarse compared with even a BMW 335i coupe or Audi S5. The VQ-series engine isn't as smooth as a Bimmer's, and the I ...