Welcome light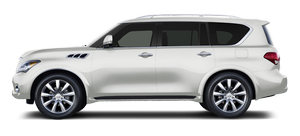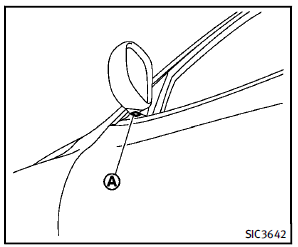 To activate or deactivate the welcome light function, perform the following procedure. 1. Push the ignition switch to the ON position. 2. Open the driver's side door. 3. Within 20 seconds after the ignition switch is pushed to the ON position, push the door open request switch on the driver's side door handle for more than 5 seconds with the driver's door open. 4. A chime sounds when the setting is completed. Once the welcome light function is active, the puddle light A and the passenger cabin illumination will illuminate when you approach the vehicle with the Intelligent Key (within approximately 3.3 ft (1 m) of the antenna built inside the door handles) and the following conditions are met.
► All doors are closed and locked.
► The ignition switch is in the LOCK or OFF position.
► The Intelligent Key is outside the vehicle.
► The puddle light operates within a set duration.
BATTERY SAVER SYSTEM
The welcome light function will be deactivated automatically to prevent battery discharge under the following conditions. To activate the welcome light function again, unlock any door.
► If the welcome light function does not operate within a set duration. Note that the duration is set to 9 days as the factory default setting.
► If the welcome light function is activated 15 consecutive times when you approach and leave the vehicle with the Intelligent Key without the doors being unlocked.
See also:
Read first — then drive safely
Before driving your vehicle, read your Owner's Manual carefully. This will ensure familiarity with controls and maintenance requirements, assisting you in the safe operation of your vehicle. WARNING ...
INFINITI Intelligent Key System
WARNING ● Radio waves could adversely affect electric medical equipment. Those who use a pacemaker should contact the electric medical equipment manufacturer for the possible influences befor ...
Audio settings
Audio settings The display as illustrated will appear when pushing the SETTING button and selecting the "Audio" key. Bass/Treble/Balance/Fade: To adjust the speaker tone quality and sound balance ...