Active Noise Control (ANC)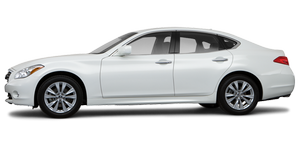 By identifying undesirable sounds in the cabin and then playing back through the speakers sound waves of opposite phase, the original noises are cancelled out, making the M's interior a quieter, more restful place to be. The system is aimed at reducing undesirable low-frequency engine sounds only. Infiniti M models with the 16-speaker Bose® Studio Surround® sound system are equipped with Bose Engine Harmonic Cancellation (EHC) which is even more effective at controlling unwanted noises.
See also:
Seat belt extenders
If, because of body size or driving position, it is not possible to properly fit the lapshoulder belt and fasten it, an extender that is compatible with the installed seat belts is available t ...
2010 Infiniti M35 Review
A car that's a few years into its current design is usually beginning to show its age, especially when it has as many serious competitors as Infiniti's M sedan does. The M outpaces that trend: The ...
Zone variation change procedure
The difference between magnetic north and geographical north is known as variance. In some areas, this difference can sometimes be great enough to cause false compass readings. Follow these instructi ...