Display settings (models without navigation system)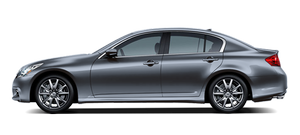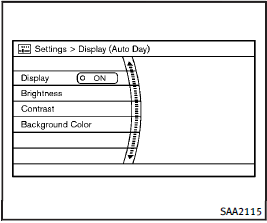 Display settings (models without navigation system)
The "Display" screen will appear when pushing the SETTING button, selecting "Display" key with the INFINITI controller and pushing the ENTER button.
Display:
To turn off the screen, push the ENTER button and turn the "ON" indicator off.
When any mode button is pushed with the screen off, the screen turns on for further operation. The screen will turn off automatically 5 seconds after the operation is finished.
To turn on the screen, set this item to the "ON" position or push the "

OFF" button.
Brightness/Contrast/Background Color:
To adjust the brightness, contrast and background color of the screen, select the appropriate "Brightness", "Contrast" or "Background Color" key and push the ENTER button.
Then, you can adjust the brightness and the contrast using the INFINITI controller.
Switch the background color to the daytime mode or the nighttime mode by pushing the ENTER button.
See also:
Cockpit
1. Instrument brightness control switch 2. TRIP/RESET switch for twin trip odometer 3. Headlight, fog light and turn signal switch — Headlight — Turn signal — Fog light 4. Steering-whe ...
Break-in schedule
CAUTION During the first 1,200 miles (2,000 km), follow these recommendations to obtain maximum engine performance and ensure the future reliability and economy of your new vehicle. Fail ...
Air conditioner system refrigerant and oil recommendations
The air conditioner system in your INFINITI vehicle must be charged with the refrigerant HFC-134a (R-134a) and the oil, NISSAN A/C system oil DH-PS or the exact equivalents. CAUTION The use of any ...