Car phone or CB radio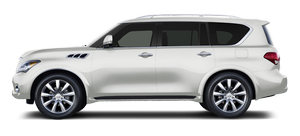 When installing a car phone or a CB radio in your vehicle, be sure to observe the following cautions, otherwise the new equipment may adversely affect the electronic control modules and electronic control system harness.

WARNING

► A cellular phone should not be used for any purpose while driving so full attention may be given to vehicle operation. Some jurisdictions prohibit the use of cellular phones while driving.
► If you must make a call while your vehicle is in motion, the hands-free cellular phone operational mode (if so equipped) is highly recommended. Exercise extreme caution at all times so full attention may be given to vehicle operation.
► If a conversation in a moving vehicle requires you to take notes, pull off the road to a safe location and stop your vehicle before doing so.

CAUTION
► Keep the antenna as far away as possible from the electronic control modules.
► Keep the antenna wire more than 8 in (20 cm) away from the electronic control system harness. Do not route the antenna wire next to any harness.
► Adjust the antenna standing-wave ratio as recommended by the manufacturer.
► Connect the ground wire from the CB radio chassis to the body.
► For details, consult an INFINITI retailer.
See also:
Infiniti G in the Market
Bolstered by the addition of the G25, the G has seen a sales surge uncommon this late in a car's life cycle: It's edged out the C-Class and come within striking distance of the 3 Series — the segm ...
Audio main operation
Head unit: The auto loudness circuit enhances the low and high frequency ranges automatically in both radio reception and CD playback. ON·OFF/Volume control: Push the ignition switch to the ACC or ...
Seat belts
The seat belts can be cleaned by wiping them with a sponge dampened in a mild soap solution. Allow the belts to dry completely in the shade before using them. See "Seat belt maintenance" in the "Sa ...