Quality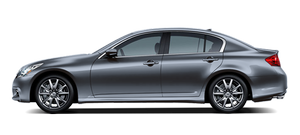 Infiniti is synonymous with vehicle quality, and that's something that doesn't happen by accident.
On the Tochigi production line in Japan every vehicle - not just every tenth - is laser scanned to ensure that panel gaps are within prescribed limits.
During the design and development phase, new models are exhaustively tested not just at Infiniti's Hokkaido proving ground but also at the Tochigi and Motegi test and race complexes in Japan. Infiniti also has a vast 12.34 million square metre hot weather testing base in Arizona.
Testing every Infiniti in the harshest of conditions and over thousands and thousands of kilometres ensures the durability and peace of mind that buyers can expect from the products.
See also:
Clearing the programmed information
Individual buttons cannot be cleared. However, to clear all programming, press and hold the two outside buttons and release when the indicator light begins to flash (approximately 20 seconds). ...
Engine oil and oil filter recommendations
Selecting the correct oil It is essential to choose the correct grade, quality and viscosity engine oil to ensure satisfactory engine life and performance. See Capacities and recommended fuel/lubri ...
New for 2012
Always a polarizing design, the FX has changed incrementally, again, for 2012, with a new grille that one of our editors thinks is an improvement. To me, it's a step back. (For a while, Infiniti g ...