Braking precautions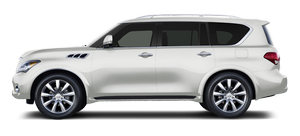 The brake system has two separate hydraulic circuits. If one circuit malfunctions, you will still have braking ability at two wheels. You may feel a small click and hear a sound when the brake pedal is fully depressed slowly. This is not a malfunction and indicates that the brake assist mechanism is operating properly.
Hydraulically-assisted brakes
The hydraulically-assisted brake system is designed to use a hydraulic pump driven electrically, to assist braking. If the engine stops, you can stop the vehicle by depressing the foot brake pedal. However, greater foot pressure on the foot brake pedal will be required to stop the vehicle. The stopping distance will be longer.
Wet brakes
When the vehicle is washed or driven through water, the brakes may get wet. As a result, your braking distance will be longer and the vehicle may pull to one side during braking. To dry brakes, drive the vehicle at a safe speed while lightly tapping the brake pedal to heat-up the brakes. Do this until the brakes return to normal. Avoid driving the vehicle at high speeds until the brakes function correctly.
See also:
Loose fuel cap warning
Loose fuel cap warning The LOOSE FUEL CAP warning appears on the dot matrix liquid crystal display when the fuel-filler cap is not tightened correctly after the vehicle has been refueled. It may ta ...
Unlocking doors and fuel-filler door
1. Push the door handle request switch (driver's or front passenger's) A once while carrying the Intelligent Key with you. 2. The hazard indicator flashes once and outside chime sounds once. The corr ...
BSW system operation
If the radar sensors detect vehicles in the detection zone, the BSW/Blind Spot InterventionTM indicator light located inside the outside mirrors illuminates. If the turn signal is then activ ...