Braking precautions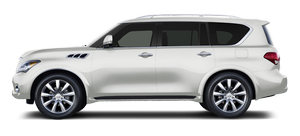 The brake system has two separate hydraulic circuits. If one circuit malfunctions, you will still have braking ability at two wheels. You may feel a small click and hear a sound when the brake pedal is fully depressed slowly. This is not a malfunction and indicates that the brake assist mechanism is operating properly.
Hydraulically-assisted brakes
The hydraulically-assisted brake system is designed to use a hydraulic pump driven electrically, to assist braking. If the engine stops, you can stop the vehicle by depressing the foot brake pedal. However, greater foot pressure on the foot brake pedal will be required to stop the vehicle. The stopping distance will be longer.
Wet brakes
When the vehicle is washed or driven through water, the brakes may get wet. As a result, your braking distance will be longer and the vehicle may pull to one side during braking. To dry brakes, drive the vehicle at a safe speed while lightly tapping the brake pedal to heat-up the brakes. Do this until the brakes return to normal. Avoid driving the vehicle at high speeds until the brakes function correctly.
See also:
Turn signal switch
Turn signal 1 Move the lever up or down to signal the turning direction. When the turn is completed, the turn signals cancel automatically Lane change signal 2 To signal a lane change, move the l ...
Warning lights
For additional information on warnings and indicators, see "Vehicle information display" later in this section. Anti-lock Braking System (ABS) warning light When the ignition switch is placed in the ...
Manual operation (if so equipped)
Manual operation (if so equipped) Tilt or telescopic operation Pull the lock lever 1 down and adjust the steering wheel up, down, forward or rearward to the desired position. Push the lock lever ...