Braking precautions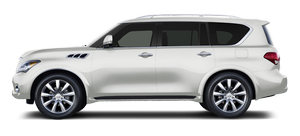 The brake system has two separate hydraulic circuits. If one circuit malfunctions, you will still have braking ability at two wheels. You may feel a small click and hear a sound when the brake pedal is fully depressed slowly. This is not a malfunction and indicates that the brake assist mechanism is operating properly.
Hydraulically-assisted brakes
The hydraulically-assisted brake system is designed to use a hydraulic pump driven electrically, to assist braking. If the engine stops, you can stop the vehicle by depressing the foot brake pedal. However, greater foot pressure on the foot brake pedal will be required to stop the vehicle. The stopping distance will be longer.
Wet brakes
When the vehicle is washed or driven through water, the brakes may get wet. As a result, your braking distance will be longer and the vehicle may pull to one side during braking. To dry brakes, drive the vehicle at a safe speed while lightly tapping the brake pedal to heat-up the brakes. Do this until the brakes return to normal. Avoid driving the vehicle at high speeds until the brakes function correctly.
See also:
Automatic climate control
WARNING • The air conditioner cooling function operates only when the engine is running.• Do not leave children or adults who would normally require the support of others alone in your vehicle. Pets ...
Floor mats
WARNING To avoid potential pedal interference that may result in a collision or injury: ● NEVER place a floor mat on top of another floor mat in the driver front position. ● Use o ...
Troubleshooting guide
The system should respond correctly to all voice commands without difficulty. If problems are encountered, try the following solutions. Where the solutions are listed by number, try each solution ...