Vehicle phonebook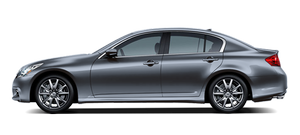 This vehicle has two phonebooks available for hands-free use. Depending on the phone, the system may automatically download the entire cell phone's phonebook into the "Handset Phonebook". For the details about downloading a phonebook, see "Phone setting". If a phonebook does not automatically download, the vehicle phonebook may be set for up to 1,000 entries. This phonebook allows the recording of a name to speak while using voice recognition.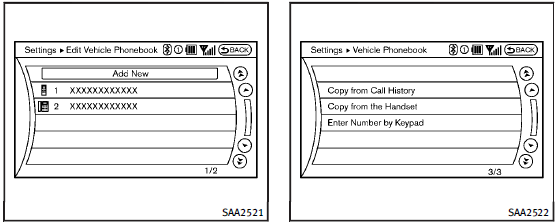 1. Push the PHONE button and select the "Vehicle Phonebook" key.
2. Select the "Add New" key at the top of the screen.
3. Choose the method for entering the phonebook entry. For this example, select "Enter Number by Keypad".
4. Enter the digits and select the "OK" key. (See "How to use touch screen (models with navigation system)".)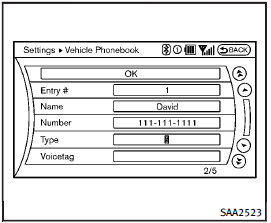 5. Select the "Voicetag" key to record a name to speak when using the INFINITI Voice Recognition system.
6. Select the "Store" key and prepare to speak the name after the tone.
7. When the voicetag is successfully saved, select the "OK" key to save the phonebook entry.
8. After the phonebook entry is saved, it will show a screen that is ready to call the number. Press the BACK button to return to the Vehicle Phonebook.
There are different methods to input a phone number. Select one of the following options instead of "Enter Number by Keypad" in step 3.
• Copy from Call History
The system will show a list of incoming, outgoing or missed calls that were downloaded from the connected cellular phone (depending on the phone's compatibility). Select one of these entries to save in the vehicle phonebook.
• Copy from the Handset
The system will show the connected cellular phone's phonebook that was downloaded (depending on the phone's compatibility). Select one of these entries to save in the vehicle phonebook.
See also:
Safety & Reliability
In crash tests by the Insurance Institute for Highway Safety, the M earned the top possible score, Good, in both frontal and side-impact tests. Standard safety features include six airbags, with s ...
Hill start assist system
WARNING ● Never rely solely on the hill start assist system to prevent the vehicle from moving backward on a hill. Always drive carefully and attentively. Depress the brake pedal when the veh ...
Extending engine run time
time by performing the steps listed in "Remote starting the vehicle" in this section. Run time will be calculated as follows: ● The first 10 minute run time will start when the remote start f ...