Flat towing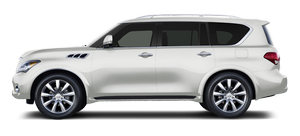 Towing your vehicle with all four wheels on the ground is sometimes called flat towing. This method is sometimes used when towing a vehicle behind a recreational vehicle, such as a motor home.

CAUTION
► Failure to follow these guidelines can result in severe transmission damage.
► Whenever flat towing your vehicle, always tow forward, never backward.
► DO NOT tow any automatic transmission vehicle with all four wheels on the ground (flat towing). Doing so WILL DAMAGE internal transmission parts due to lack of transmission lubrication.
► DO NOT tow an Four-Wheel Drive (4WD) vehicle with any of the wheels on the ground. Doing so may cause serious and expensive damage to the powertrain.
► For emergency towing procedures refer to "Towing recommended by INFINITI" in the "6. In case of emergency" section of this manual.
Automatic Transmission
Four-Wheel Drive (4WD) models:
Do not tow a 4WD vehicle with any of the wheels on the ground.
Two-Wheel Drive (2WD) models:
To tow a vehicle equipped with an automatic transmission, an appropriate vehicle dolly MUST be placed under the towed vehicle's drive wheels. Always follow the dolly manufacturer's recommendations when using their product.
See also:
Windshield wiper and washer switch
WARNING In freezing temperatures the washer solution may freeze on the window and obscure your vision which may lead to an accident. Warm the window with the defroster before you wash the window. ...
If your vehicle overheats
CAUTION ► Do not continue to drive if your vehicle overheats. Doing so could cause engine damage or a vehicle fire. ► To avoid the danger of being scalded, never remove the rad ...
Valet hand-off
When you have to leave a key with a valet, give them the Intelligent Key itself and keep the mechanical key with you to protect your belongings. To prevent the glove box and the trunk from being open ...