Flat towing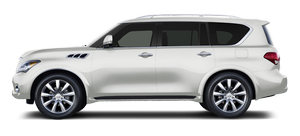 Towing your vehicle with all four wheels on the ground is sometimes called flat towing. This method is sometimes used when towing a vehicle behind a recreational vehicle, such as a motor home.

CAUTION
► Failure to follow these guidelines can result in severe transmission damage.
► Whenever flat towing your vehicle, always tow forward, never backward.
► DO NOT tow any automatic transmission vehicle with all four wheels on the ground (flat towing). Doing so WILL DAMAGE internal transmission parts due to lack of transmission lubrication.
► DO NOT tow an Four-Wheel Drive (4WD) vehicle with any of the wheels on the ground. Doing so may cause serious and expensive damage to the powertrain.
► For emergency towing procedures refer to "Towing recommended by INFINITI" in the "6. In case of emergency" section of this manual.
Automatic Transmission
Four-Wheel Drive (4WD) models:
Do not tow a 4WD vehicle with any of the wheels on the ground.
Two-Wheel Drive (2WD) models:
To tow a vehicle equipped with an automatic transmission, an appropriate vehicle dolly MUST be placed under the towed vehicle's drive wheels. Always follow the dolly manufacturer's recommendations when using their product.
See also:
Intelligent Key operation
You can lock or unlock the doors without taking the key out from your pocket or bag. When you carry the Intelligent Key with you, you can lock or unlock all doors by pushing the door handle ...
SAFETY
The EX35 may have missed the mark on storage space and rear legroom; however, it earns extra points for its safety features. The 2011 EX35 has been named a Top Safety Pick by the Insurance Institu ...
2009 Infiniti M35 Review
A sedan isn't usually what comes to mind when you think of a family car, but the 2009 Infiniti M35x could change that. The M35x single-handedly proves that sedans can be great family cars. In fact ...