Touch screen maintenance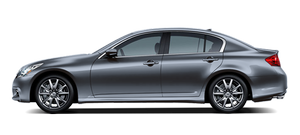 If you clean the display screen, use a dry, soft cloth. If additional cleaning is necessary, use a small amount of neutral detergent with a soft cloth. Never spray the screen with water or detergent. Dampen the cloth first, and then wipe the screen.
See also:
If your vehicle overheats
CAUTION • Do not continue to drive if your vehicle overheats. Doing so could cause engine damage or a vehicle fire.• To avoid the danger of being scalded, never remove the radiator cap while the engi ...
Vehicle security system activation
The vehicle security system will give the following alarm: ● The turn signals blink and the horn sounds intermittently. ● The alarm automatically turns off after a period of time. Ho ...
Releasing inside the trunk
To open the trunk lid from the inside, pull the release handle 1 until the lock releases and push up on the trunk lid. The release lever is made of a material that glows in the dark after a brief exp ...