Compact Disc (CD) player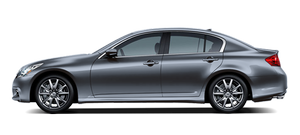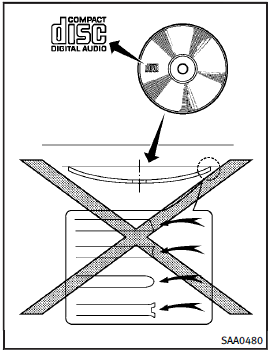 Compact Disc (CD) player
• Do not force a compact disc into the CD insert slot. This could damage the CD and/or CD player.
• Trying to load a CD with the CD door closed could damage the CD and/or CD player.
• During cold weather or rainy days, the player may malfunction due to the humidity. If this occurs, remove the CD and dehumidify or ventilate the player completely.
• The player may skip while driving on rough roads.
• The CD player sometimes cannot function when the passenger compartment temperature is extremely high. Decrease the temperature before use.
• Only use high quality 4.7 in (12 cm) round discs that have the "COMPACT disc DIGITAL AUDIO" logo on the disc or packaging.
• Do not expose the CD to direct sunlight.
• CDs that are of poor quality, dirty, scratched, covered with fingerprints, or that have pin holes may not work properly.
• The following CDs may not work properly:
— Copy control compact discs (CCCD)
— Recordable compact discs (CD-R)
— Rewritable compact discs (CD-RW)
• Do not use the following CDs as they may cause the CD player to malfunction.
— 3.1 in (8 cm) discs
— CDs that are not round
— CDs with a paper label
— CDs that are warped, scratched, or have abnormal edges
• This audio system can only play prerecorded CDs. It has no capabilities to record or burn CDs.
• If the CD cannot be played, one of the following messages will be displayed.
CHECK DISC: — Confirm that the CD is inserted correctly (the label side is facing up, etc.).
— Confirm that the CD is not bent or warped and it is free of scratches.
PUSH EJECT:
This is an error due to the temperature inside the player is too high. Remove the CD by pushing the EJECT button, and after a short time reinsert the CD.
The CD can be played when the temperature of the player returns to normal.
UNPLAYABLE:
The file is unplayable in this audio system (only MP3 or WMA CD).
See also:
DISC·AUX but
Park the vehicle in a safe location for the front seat occupants to operate the DVD player while watching the images. Insert a DVD into the CD/DVD slot with the labeled side up. The DVD will be guide ...
F.M.V.S.S./C.M.V.S.S. certification label
F.M.V.S.S./C.M.V.S.S. certification label The Federal/Canadian Motor Vehicle Safety Standards (F.M.V.S.S./C.M.V.S.S.) certification label is affixed as shown. This label contains valuable vehicle i ...
Entering from the side
The Blind spot warning indicator light illuminates if a vehicle enters the detection zone from either side. NOTE: The radar sensors may not detect a vehicle which is traveling at about the same sp ...