2010 Infiniti M35 Review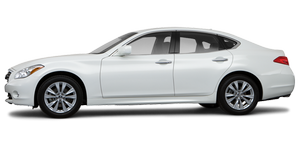 A car that's a few years into its current design is usually beginning to show its age, especially when it has as many serious competitors as Infiniti's M sedan does. The M outpaces that trend: The 2006 original took the field by storm and, relatively speaking, today's car is eight-tenths as terrific. In a segment whose players' strengths vary across many fronts — performance, technology, quality, reliability — the M emerges a competent choice across the board.
Infiniti sells two variants, the V-6 M35 and the V-8 M45. All-wheel-drive versions of both are also available, dubbed M35x and M45x. Ever since the brand dropped the larger Q45, the M has become its de facto flagship. As such, it's enjoyed frequent updates to stay competitive. The 2009 model sports an upgraded V-6 drivetrain, while the V-8 carries over with minimal differences. Click here to see a comparison with the 2008 model, whose review serves as the basis for this one.
I tested an '09 M35x, though I've also driven a 2008 M35 and 2006 M45.
See also:
Vents
Adjust air flow direction for the driver's and passenger's side vents 1 , center vents 2 , and rear vents 3 by moving the vent slide and/or vent assemblies. Open or close the vents using the d ...
Parking brake break-in
Break in the parking brake shoes whenever the stopping effect of the parking brake is weakened or whenever the parking brake shoes and/or drums/rotors are replaced, in order to assure the best ...
All-Wheel Drive (AWD) models
CAUTION • Always use tires of the same type, size, brand, construction (bias, bias-belted or radial), and tread pattern on all four wheels. Failure to do so may result in a circumference difference b ...