Phone selection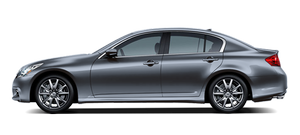 Up to 5 cellular phones can be registered to the system. To switch to connect another cellular phone, push PHONE button and select the "Connected Phones" key. The registered cellular phones are shown on the list. If you select a cellular phone that is different from the one currently connected, the newly selected phone will be connected to the system.
See also:
To protect your vehicle from corrosion
• Wash and wax your vehicle often to keep the vehicle clean. • Always check for minor damage to the paint and repair it as soon as possible. • Keep drain holes at the bottom of the doors open to avo ...
What Is It?
Infiniti's first crack at the in-house tuner idea. IPL stands for Infiniti Performance Line, the company's new performance subbrand. The IPL differs from good old Gs in that it has a more aggressi ...
How to park with predicted course lines
WARNING • Always turn and check that it is safe to park your car before backing up. Always back up slowly.• Use the displayed lines as a reference.The lines are highly affected by the number of occup ...