Speaker adaptation function (for Alternate Command Mode)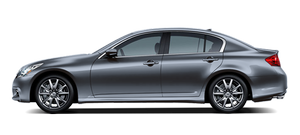 The voice recognition system has a function to learn the user's voice for better voice recognition performance. The system can memorize the voices of up to three persons.
Having the system learn the user's voice:
1. Push the SETTING button on the instrument panel and select the "Others" key.
2. Select the "Voice Recognition" key.
3. Select the "Speaker Adaptation" key.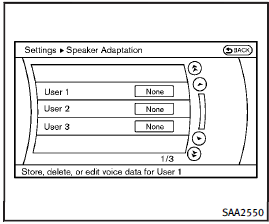 4. Select the user whose voice is memorized by the system.
5. Select the "Start Speaker Adaptation Learning" key.
6. Select a category to be learned by the system from the following list.
• Phone Commands
• Navigation Commands
• Information Commands
• Audio Commands
• Help Commands
The voice commands in the category are displayed.
7. Select a voice command and then push the ENTER button.
The voice recognition system starts.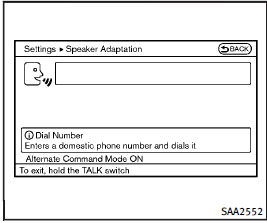 8. The system requests that you repeat a command after a tone.
9. After the tone sounds and the icon on the screen changes from

to

, speak the command that the system requested.
10.When the system has recognized the voice command, the voice of the user is learned.
Push the

switch or BACK button to return to the previous screen.
If the system has learned the command correctly, the voice command status on the right side of the command turns from "None" to "Stored".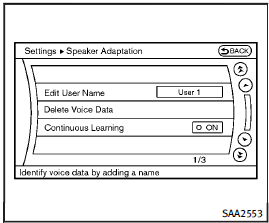 Speaker Adaptation function settings:
Edit User Name
Edit the user name using the keypad displayed on the screen.
Delete Voice Data
Resets the user's voice that the voice recognition system has learned.
Continuous Learning
When this item is turned to ON, you can have the system learn the voice commands in succession, without selecting commands one by one.
See also:
Change intervals
The oil and oil filter change intervals for your engine are based on the use of the specified quality oils and filters. Oil and filter other than the specified quality, or oil and filter change interv ...
INFINITI Voice Recognition Alternate Command Mode
The following section is applicable when Alternate Command Mode is activated. When Alternate Command Mode is activated, an expanded list of commands can be used after pushing the TALK switc ...
Rapid air pressure loss
Rapid air pressure loss or a "blow-out" can occur if the tire is punctured or is damaged due to hitting a curb or pothole. Rapid air pressure loss can also be caused by driving on under-inflated tires ...