Push-button ignition switch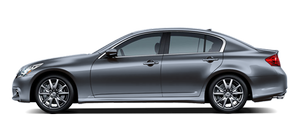 WARNING
Do not operate the push-button ignition switch while driving the vehicle except in an emergency. (The engine will stop when the ignition switch is pushed 3 consecutive times or the ignition switch is pushed and held for more than 2 seconds.) If the engine stops while the vehicle is being driven, this could lead to a crash and serious injury.
Before operating the push-button ignition switch, be sure to move the selector lever to the P (Park) position (for automatic transmission model) or the shift lever to the N (Neutral) position (for manual transmission model).
See also:
Underbody
In areas where road salt is used in winter, the underbody must be cleaned regularly. This will prevent dirt and salt from building up and causing the acceleration of corrosion on the underbody ...
Tire wear and damage
1. Wear indicator2. Wear indicator location mark WARNING • Tires should be periodically inspected for wear, cracking, bulging or objects caught in the tread. If excessive wear, cracks, bulging or d ...
Chassis and driving dynamics
Infiniti G37 Coupé uses the second-generation version of Infiniti's FM platform. The 'front midship' engine location sees the compact V6 mounted in the front of the car, but as low and as f ...