Suggested maximum speed in each gear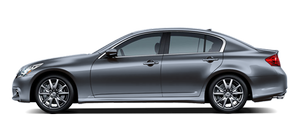 Downshift to a lower gear if the engine is not running smoothly, or if you need to accelerate.
Do not exceed the maximum suggested speed (shown below) in any gear. For level road driving, use the highest gear suggested for that speed. Always observe posted speed limits, and drive according to the road conditions, which will ensure safe operation. Do not over-rev the engine when shifting to a lower gear as it may cause engine damage or loss of vehicle control.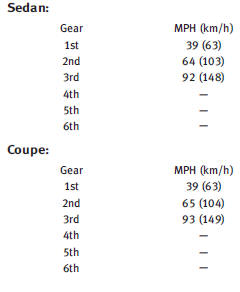 See also:
Backing up on a steep uphill
Backing up on a steep uphill When backing up the vehicle up a hill, the distance guide lines and the vehicle width guide lines are shown closer than the actual distance. For example, the display sh ...
Cruise control operations
The cruise control allows driving at a speed between 25 - 89 MPH (40 - 144 km/h) without keeping your foot on the accelerator pedal. To turn on the cruise control, push the ON·OFF switch on. The CR ...
Clearing the programmed information
Individual buttons cannot be cleared. However, to clear all programming, press and hold the two outside buttons and release when the indicator light begins to flash (approximately 20 seconds). ...