2009 Infiniti M35 Review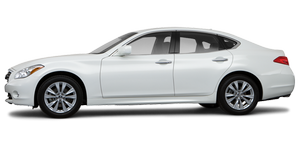 A sedan isn't usually what comes to mind when you think of a family car, but the 2009 Infiniti M35x could change that. The M35x single-handedly proves that sedans can be great family cars. In fact, it's not only a great family car, it's also a great hot-mama car, striking the perfect balance between practicality and luxury.
This car has everything a family of four could want and more. Its passenger room is spacious and comfortable; there are enough cupholders to accommodate everyone. The M35x's audio system is kickin', and there's storage space aplenty.
The true brilliance behind the M35x is that it doesn't skimp on pleasing the driver, too. It's fun to drive, and the version I tested had an indulgent interior with buttery smooth leather upholstery and heated/cooled front seats. This is a car that can go from a playdate to a date night with no problems. I only wish I could go from one to the other as easily - I usually have to change outfits at the very least.
There were only two areas where the M35X failed me: fuel economy (it's estimated to get 16/22 mpg city/highway) and Latch connectors. Because the mileage numbers aren't egregiously bad and I've found myself complaining about fuel economy a lot lately, I'm going to let that one slide. Those darn Latch connectors, however, really bummed me out. They were difficult to find, and it took me way too long to install and uninstall my children's safety seats as a result. Please, Infiniti, make them more accessible, and then the M35x will be the perfect family sedan.
See also:
How to use INFO button
The display screen shows vehicle and navigation information for your convenience. The information shown on the screen should be a guide to determine the condition of the vehicle. See the follo ...
Exterior front
1. Hood (P.3-18) 2. Windshield wiper and washer Ч Switch operation (P.2-33) Ч Rain-sensing auto wiper system (P.2-34) Ч Wiper blade replacement (P.8-20) Ч Window washer fluid (P.8-15) ...
Change intervals
The oil and oil filter change intervals for your engine are based on the use of the specified quality oils and filters. Oil and filter other than the specified quality, or oil and filter change interv ...