Going & Stopping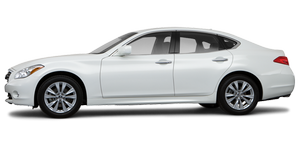 The M35 should be fine for most drivers. Its V-6 churns out fluid power with no peaky bursts or low-end sluggishness, and under hard acceleration its high-pitched whine should be music to any gearhead. Credit the engine, a longtime award winner from Infiniti parent Nissan. Dollar for dollar, the M35 provides a far richer powerband than competitors like the BMW 528i or Audi A6 3.2.
Though the M's five-speed automatic is a gear or two short of the competition, it works just as well, if not better. It holds lower gears tenaciously at lower speeds, refusing the mileage bait of an early upshift while you're still on the gas. Shifts are heard in engine pitch but rarely felt, and highway kickdown is quick and free of gear-hunting. Around town, lower gears arrive almost instinctively — accelerating out of a corner or pulling around a semi, for instance, you're rarely caught flat-footed in a higher gear. Jaguar's ZF automatic comes to mind in the same league, and I hope Infiniti preserves this sort of performance in its upcoming seven-speed automatic.
If the M35 is confident, the M45 is authoritative. Don't let the mere 50-horsepower difference fool you — with an extra liter of displacement, the M45's V-8 boasts a torque peak that's 800 rpm lower, with 68 more pounds-feet of twist. It trades the M35's finesse for brute hang-the-tail-out power at pretty much any speed. In my brief time with the M45 — it was a 2006 model — I found the acceleration unmanageable at times. It would come in spurts, particularly through second and third gear, giving the car a restless feeling on city streets. If your commute involves roads that are open enough for the M45 to stretch its legs, though, it could be serious fun.
The M35x and M45x utilize an all-wheel-drive system that transfers power forward or backward electronically. It can split power from 50/50 front/rear all the way to 0/100, with all the power going to the rear wheels to optimize handling. Infiniti sums up the system's convoluted name with the equally convoluted acronym ATTESA E-TS — which, were it an actual word, would be a great way to dump all your T's in Scrabble.
Drivetrains: M35 vs. M45
M35 M45
Engine 3.5-liter V-6 4.5-liter V-8
Horsepower (@ rpm) 275 @ 6,200 325 @ 6,400
Torque (lbs.-ft. @ rpm) 268 @ 4,800 336 @ 4,000
Transmission 5-speed automatic 5-speed automatic
EPA gas mileage 16/23 (M35); 16/22 (M35x) 16/21 (M45); 14/20 (M45x)
Fuel type Premium (recommended) Premium (required)
Source: Automaker data, EPA
Four-wheel-disc antilock brakes are standard, and the systems are identical on the M35 and M45. My test car's brakes felt a bit mushy at first but clamped down later on. The M45 I drove in 2006 had more linear braking.
See also:
Towing safety
Trailer hitch Your vehicle may be equipped with an optional trailer tow package. The trailer tow package includes a receiver-type frame mounted hitch. This hitch is rated for the maximum towing capac ...
Readiness for inspection/maintenance (I/M) test
Due to legal requirements in some states and Canadian Provinces, your vehicle may be required to be in what is called the "ready condition" for an Inspection/Maintenance (I/M) test of the emission con ...
Tachometer
Tachometer The tachometer indicates engine speed in revolutions per minute (RPM). Do not rev the engine into the red zone 1 . CAUTION When engine speed approaches the red zone, shift to a highe ...