Parking brake break-in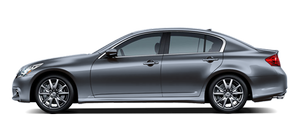 Break in the parking brake shoes whenever the stopping effect of the parking brake is weakened or whenever the parking brake shoes and/or drums/rotors are replaced, in order to assure the best braking performance.
This procedure is described in the vehicle service manual and can be performed by an INFINITI retailer.
Using the brakes
Avoid resting your foot on the brake pedal while driving. This will cause overheating of the brakes, wearing out the brake and pads faster and reduce gas mileage.
To help save the brakes and to prevent the brakes from overheating, reduce speed and downshift to a lower gear before going down a slope or long grade. Overheated brakes may reduce braking performance and could result in loss of vehicle control.
WARNING
• While driving on a slippery surface, be careful when braking, accelerating or downshifting. Abrupt braking or accelerating could cause the wheels to skid and result in an accident.
• If the engine is not running or is turned off while driving, the power assist for the brakes will not work. Braking will be harder.
See also:
Terms
It is important to familiarize yourself with the following terms before loading your vehicle: ● Curb Weight (actual weight of your vehicle) - vehicle weight including: standard and optional ...
How to change the set vehicle speed
To cancel the preset speed, use any of these methods: ● Push the CANCEL switch. The set vehicle speed indicator will go out. ● Tap the brake pedal. The set vehicle speed indicator wi ...
Sensor maintenance
The sensor for the ICC system A is located below the front bumper. To keep the ICC system operating properly, be sure to observe the following: . Always keep the sensor clean. Wipe with a soft cl ...