Normal operation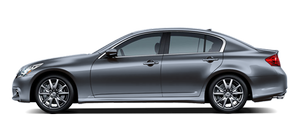 The ABS operates at speeds above 3 to 6 MPH (5 to 10 km/h).
When the ABS senses that one or more wheels are close to locking up, the actuator rapidly applies and releases hydraulic pressure. This action is similar to pumping the brakes very quickly. You may feel a pulsation in the brake pedal and hear a noise from under the hood or feel a vibration from the actuator when it is operating. This is normal and indicates that the ABS is operating properly. However, the pulsation may indicate that road conditions are hazardous and extra care is required while driving.
See also:
Music Box® (if so equipped)
Recording: • Note that data that is lost and not stored to the hard drive/flash memory due to system damage, improper operation or malfunction is not under warranty. • Vehicle owners are not permitt ...
How to use INFINITI controller
Choose an item on the display using the main directional buttons 2 (or additional directional buttons 6 with navigation system) or center dial 3 , and push the ENTER button 1 for operation. If yo ...
Off-road recovery
If the right side or left side wheels may unintentionally leave the road surface. Maintain control of the vehicle by following the procedure below. Please note that this procedure is only a general g ...