Normal operation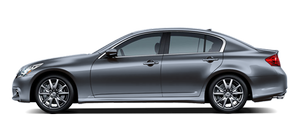 The ABS operates at speeds above 3 to 6 MPH (5 to 10 km/h).
When the ABS senses that one or more wheels are close to locking up, the actuator rapidly applies and releases hydraulic pressure. This action is similar to pumping the brakes very quickly. You may feel a pulsation in the brake pedal and hear a noise from under the hood or feel a vibration from the actuator when it is operating. This is normal and indicates that the ABS is operating properly. However, the pulsation may indicate that road conditions are hazardous and extra care is required while driving.
See also:
Passenger compartment
1. Cargo light (P.2-68) 2. Cup holders (3rd row seat) (P.2-55) 3. Rear ventilators (P.4-32) 4. Coat hooks (P.2-59) 5. Rear personal lights (P.2-66) 6. Tray (P.2-58) — USB memory operatio ...
Intelligent Brake Assist (IBA) OFF switch (if so equipped)
The vehicle should be driven with the Intelligent Brake Assist (IBA) system on for most driving conditions. The Intelligent Brake Assist (IBA) system will sound a warning chime to alert the ...
Vehicle phonebook
This vehicle has two phonebooks available for hands-free use. Depending on the phone, the system may automatically download the entire cell phone's phonebook into the "Handset Phonebook". For ...