Volume & Ringtone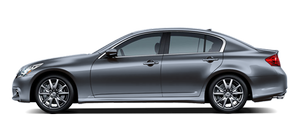 The following kinds of phone volume can be set. Pushing the PHONE button and selecting the "Volume & Ringtone" key can also operate the same settings.
• Ringtone/Incoming Call/Outgoing Call To increase or decrease the volume, select the "Ringtone", "Incoming Call" or "Outgoing Call" key and adjust it with the INFINITI controller.
• Automatic Hold
When this function is activated, an incoming phone call is automatically held.
• Vehicle Ringtone
When this function is activated, a specific ringtone that is different from the cellular phone will sound when receiving a call.
See also:
Maximum load limits
Maximum trailer loads Never allow the total trailer load to exceed the value specified in the "Towing load/ specification" later in this section. The total trailer load equals trailer weight pl ...
How to use the INFINITI controller
Choose an item on the display by rotating or pushing the center dial 2 upward or downward. Press the ENTER button 1 to select an item. If you press either of the BACK buttons 3 before the o ...
Going & Stopping
What hasn't changed is the G37's performance. Gallons of ink and multiple terabytes have been expended comparing every iota of the G37 sedan's 3.7-liter V-6 to the optional turbocharged inline-six ...